Cooking with Aunt Sandy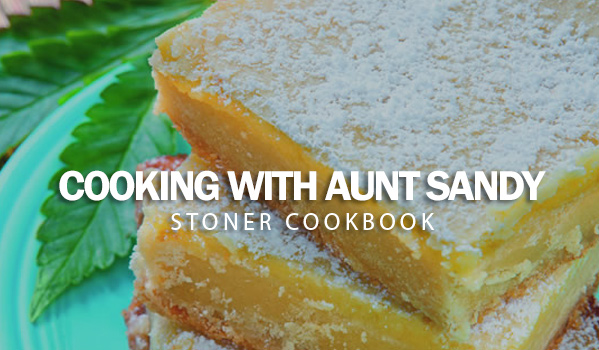 Grassy-flavored pot brownies are a thing of the past, now that 10x Cannabutter has come into play. Sandy Moriarty is the Author of the newly published cook book, "Aunt Sandy's Medical Marijuana Cookbook", which puts a whole new spin on cooking with cannabis.
Moriarty's book visually demonstrates the "secret" process for creating her magical 10x Cannabutter, which replaces the bitter "grass flavor" with a tasty, nutty butter flavor. The smokin' hot cook book includes 49 easy-to-prepare, delicious dishes that range from her signature dessert, "Blue Sky Lemon Bars", to her "Dizzy Bird Turkey with Stuffing" – a perfect dish for festive holiday dinners.
But what's most intriguing about this soon-to-be-trend-setting book is the potential impact it may have on the legalization of medical marijuana, giving a homier perspective to the controversial topic. Could this magical herb become a welcomed addition to the standard spice rack?
If you have a chance to try out "Aunt Sandy's Medical Marijuana Cookbook", make sure to follow the recipes closely. You wouldn't want your peanut butter blunt cake (*cough* sorry… I mean bunt cake) to come out half baked. We've included a copy of Sandy Moriarty's recipe for 10x Cannabutter recipe below. Enjoy…
What you'll need:
– 1 lb. Grade AA butter
– 4 oz. green leaf cannabis trimmings
– Water
– 1 large stockpot
Instructions:
1. Place all the ingredients into the pot and fill with water. Place on the stove and bring to a boil; the boiling temperature should be 212-degrees.
2. Boil the mixture for 3 to 4 hours. At this point, the trichomes will melt off the leaf material and cling to the lipids in the butter. Cook this mixture until the liquid is evaporated. The cooked down cannabis leaves should resemble spinach, while the butter is a beautiful amber color with a nutty-taste. There should be no excess liquid.
4. Now, separate the mixture by pouring it through a strainer over another pot. The "spinach" mixture should collect in the strainer while the amber liquid drains into the pot. Press the green leaves until all the moisture has been drained. Next, put the leaf mixture into cheesecloth and wring it out over the pot of liquid.
5. Refrigerate the amber liquid overnight. The butter will rise to the top and become firm again. Scoop the butter from the top, and voila! Your Cannabutter is ready to use in any of your favorite recipes as a butter or oil substitute. Keep the remaining amber liquid to cook with, as it will contain residual THC. Use it in sauces or to boil noodles – the sky's the limit.
Article from: foodiegossip.blogspot.com
Cooking with Aunt Sandy