TRIPPY CHOCOLATE CANNA SYRUP | Stoner Cookbook
CHOCOLATE SYRUP
There is nothing better than some good ol' trippy chocolate canna syrup! As stoners having variety is a must, and we love to switch things up in order to find the perfect stone. We're scientists at heart and proud to be, so let's get to the experiments pot heads! Cooking for some of us might as well be rocket science. When you have The Stoner Cookbook to guide you through chronic culinary school it's all good! The basis of this recipe is delicious gooey canna-butter. You can find The equation for this little beauty already listed in the Stoner Cook-book but here's a little refresher.
Like all things Mary Jane, the more potent the better and that all depends on the strain and amount you prefer. Grind the herb as fine as you can because this will be the true definition of shake and bake. Once you have about 3 or 4 sticks of butter all melty and delicious is when the beautiful chaos begins.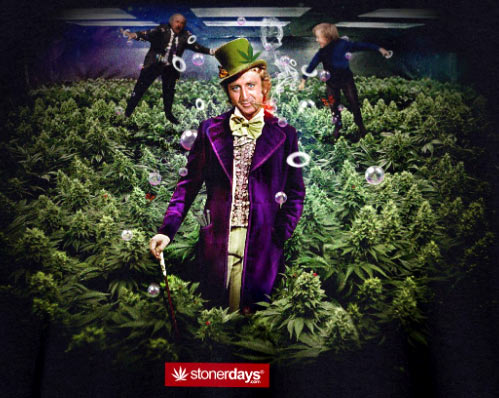 Slowly add your high grade shake into the melted Land of the Highest Lakes butter, stirring along the way, making sure the dank is evenly distributed throughout this cannabis concoction. Low to medium heat works just fine seeing as the fire is what activates the THC to make this chocolate syrup extra secret and special. Making a nice size batch is ideal so that you'll have some on hand when looking to make other high treats as well.
The process of making this mouth watering dessert is beyond simple. It only requires the chocolate bars your high eyes liked best when you were stuck in the grocery store earlier that evening, and the now cooled chunks of canna-butter that you had placed in the freezer/fridge. Heating these two things together will put them right back into a sexy melted state that we stoners like to call Trippy THC Chocolate Syrup. The possibilities are truly endless and smoking that sixth blunt of the day has filled you with all sorts of ideas you and the Munchies Monster could do with this chocolate madness.
It's second nature to turn towards the ice box when you lock eyes on the sweet syrup so go ice cream crazy. Putting Graham crackers and marshmallows into the mix means you've got THC Smores… and what could be better than that? If leftovers seem to be an issue just pour the remainder into a reusable container. Use it as a sort of Nutella, this makes dipping virtually anything a high appetizer fit for a King.
Pouring the THC chocolate syrup into ice trays and freezing them is a super simple solution to all your edible questions. With little to no effort you have yummy weed infused chocolate chunks that get the party going and eventually put the party down.
No matter what direction you choose to take in this gooey, chocolatey, mix of wonder and glory. Just make sure you make it sexy, and most importantly make it trippy. Happy eating stoners!