When it comes to talking blunt perfection it basically boils down into three main criteria; Weed, Leaf, and Skill. In today's "What Makes a Perfect Blunt" blog we'll be taking a closer look into these three categories. By the end of this selection you should be able to walk away from the rolling table with something you can be proud of.
Weed
Potency matters pot heads! Paying attention to the THC content and strains of your bud is essential in finding the right amount of high for you. Get something high grade in your preference of Indica or Sativa and a great part of your mission is already complete. Next would be the actual "feel" of the weed. This depends on the bud you choose but can range from hard to soft, sticky to crunchy, this means that you might have to do a little stick removal which leads us to our next category.
Leaf – The Key to the Perfect Blunt
This is a term used a lot today that isn't specific to actual "leaf." Many stoners use this term to describe whatever smoking wraps they're using at the time. When it comes to your roll-up you want something that's slow burning and can give you a good "clean" smoke. Artificial flavors in your wrap is more like a once in a while occurrence and when talking the perfect blunt you'll want to look toward the more natural options that are going to gift you the pure taste of your bud with less harsh chemicals, making it a healthier stone all around.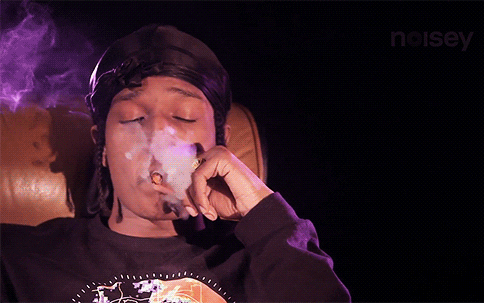 Holes in the blizzy are the exact opposite of what the doctor ordered and no one likes having to play the flute when they're trying to get fried. Paying attention to your herb and noticing when to cater to her rugged features and use a more durable leaf will save you and your circle mates a place in the quartet this year.
Skill
"Practice makes perfect" has never been more effective than in this scenario. Having the right herb to leaf ratio could mean the difference between a nice smooth pull or harsh uncontrollable coughing from inhaling too much of your leaf. Fine print like this can only be ironed out by getting stoned, so roll more, smoke more, and get your skill level up and before you know it twisting up killer blunts will have become second nature.
Next you can start making more elaborate decisions in the blunt game like adding filters, making extendos and other specialty blunts like ones rolled with wax and kief; and even woven into different designs and patterns. Your smoke your rules and no limits but definitely skill.
In a world so full of uncertainty there is one thing we can make constant in it and that's kick-ass blunts. Get all your stoner essentials and make this finally be the one you consider "perfect".
Follow us on facebook for more: https://www.facebook.com/st0nerdys/