Cannabis Taffy; Stoner Cookbook
Taffy is one of the best candies that one could hope to have, especially in the summer. For some reason, it just reminds me of the beach and of barbecues and genuine good times. So I figured that with the approaching summer months, making some taffy might be a good idea! And, as always, you know that anything made in my kitchen absolutely has to be medicated! This recipe is super easy and simple so pretty much anyone can get it done!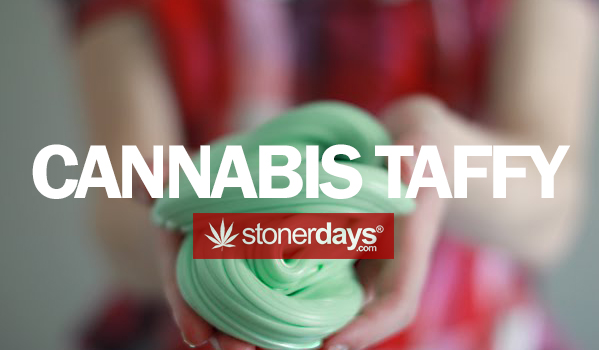 What You'll Need;
1 bag of white chocolate chips
3 packets of Kool-Aid (Your choice of flavor!)
1/2 cup Karo syrup
Coconut hash oil (Cannabutter can be substituted here but the strength of the candies will be effected… It's highly recommended that you use coconut hash oil)
Set up a double boiler (take a large mason jar and a large saucepan and fill the pan about half way with water). Take your coconut oil and chips and add them to the mason jar, letting the chips slowly melt. It's important to do this slowly so that you won't lose any THC from the oil or butter that you're using. Once the chips are melted, add in your Karo syrup. Be sure that everything is mixed (once the chips have melted fully, you can move the mixture to a bowl but you have to be quick because the liquid solidifies quickly once the heat source is removed) and then pour the mixture in to a saran-wrap lined 8×8 pan. Be sure that the saran-wrap covers the sides of the pan that you're using so that the candy doesn't stick. The wrap should overhang far enough that you can now wrap the top of the saran-wrap over the candy, fully covering it. Let the candy sit out overnight.
The following day, the candy should have hardened in to a taffy like substance, not too hard but not too soft. If the mixture hasn't gained the correct consistency, continue to let it sit out until it does. Once the mix has the taffy consistency that we all love, you can cut it in to pieces and wrap them individually in wax or cellophane. Give them out as treats or hoard them all for yourself! Either way, enjoy your awesome taffy candy!
Cannabis Taffy; Stoner Cookbook