Gazing into gleaming nugs covered in crystals and burnt orange hairs is a stoner tradition as old as puff puff pass. If any plant deserves an ideal viewing environment, it is cannabis. Thousands of years of cross-breeding produced some of the most diverse flowers on Earth.
'God put this here for me and you, take advantage, man.' – Smokey
The Smoking Session is Back!
As we come out of the shadows of the COVID-19 pandemic, stoners are looking forward to reuniting with their old smoking crew. Cannabis got us through the lockdowns, but there's nothing comparable to sharing a session with your closest confidants. When you are ready to invite the old gang back over to enjoy some potent chronic, why not make an addition to the smoke spot with a new feature?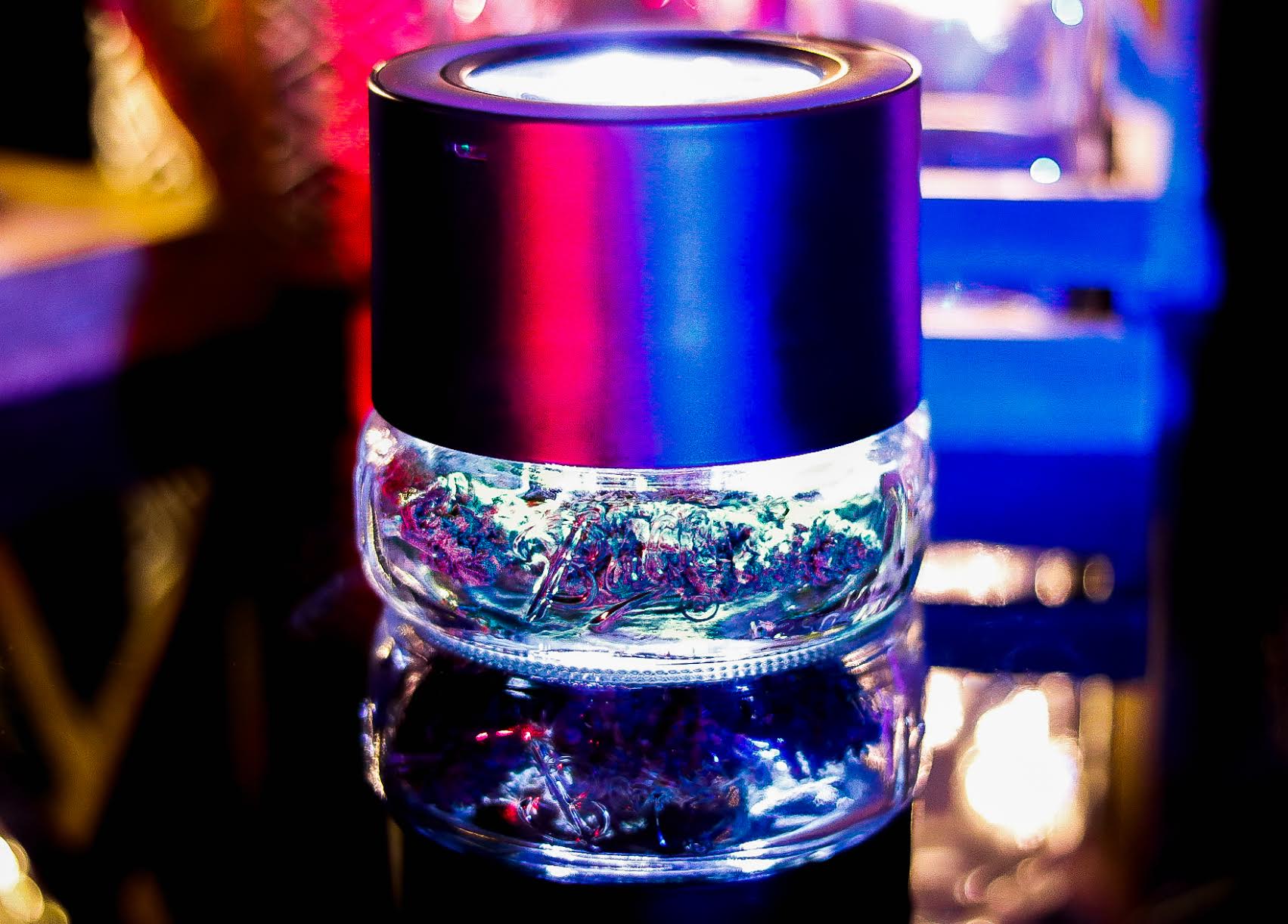 There's no better way to welcome your friends back into the house than presenting them with some absolute fire. MasonBrite is the perfect way to show off your high-quality product with an illuminated viewing glass specifically designed for cannabis. The LED display jar is the ideal addition to 'wow' your buddies, show off your bud, and welcome the crew back to normalcy.
The Ultimate Cannabis Viewing Experience
Everyone loves checking out the unique aspects of cannabis, from the complex hues, frosty trichomes to the fiery pistils. Cannabis nugs are a true work of art worthy of a nice long gaze.
MasonBrite screws n to any mason jar, keeping the buds in an airtight environment. Glass jars are the container of choice for stoners throughout history. They keep nugs fresh and allow for a 360-degree view—no need to handle the weed when you have a crystal-clear container. MasonBrite elevates the experience by transforming any mason jar into a magnifying jar complete with LED display lights highlighting the unique aspects of your choice of cannabis.
Cannabis enthusiasts, master growers, dispensary customers, and regular potheads can enjoy viewing their high-quality cannabis products at 3X and 5X. You will instantly escape into a world of intricate color schemes and infinite designs through our unique product, perfect for any cannabis user who appreciates the beauty of the sacred plant.
The Evolution of Cannabis
In the past century, cannabis went through an incredible journey. In the early 1900s, cannabis extracts were used commonly as treatments, available at pharmacies across the country. Smoking cannabis gained popularity as immigrants from South America shared their favorite past time. Rock and Roll brought cannabis use to the mainstream, making it a central aspect of the hippie movement.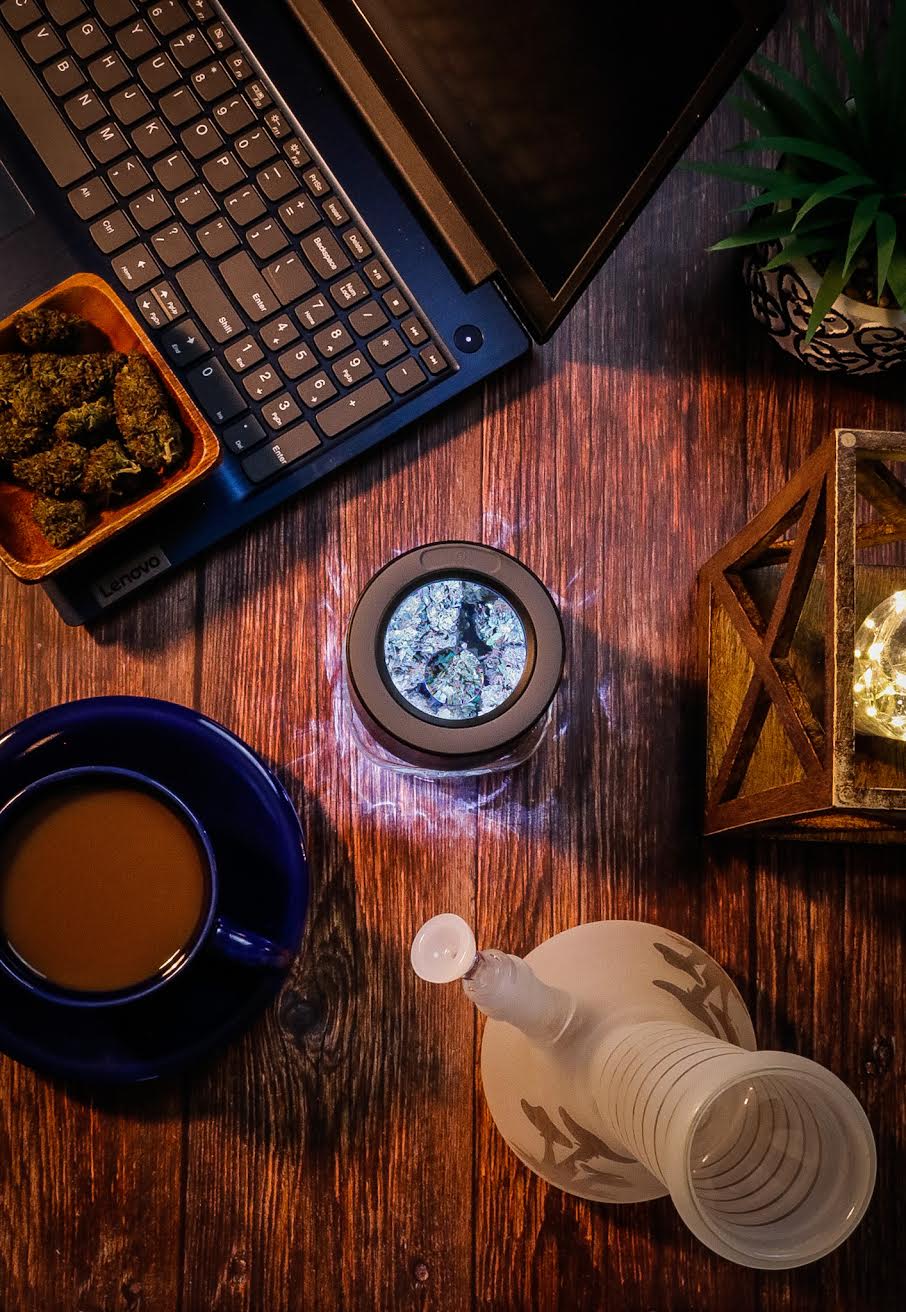 Up until the 1970s, cannabis wasn't worthy of optimized LED-lit viewing glass. Most people smoked weed that was hardly green and full of seeds and stems. Growers in northern California learned that they stumbled upon the ideal climate and found the perfect species for cannabis to reach its full potential. Only then did cannabis become a connoisseur-worthy commodity. The back-to-landers of Humboldt county started cross-breeding strains pushing the genetics to their full potential. Weed slowly became more and more like fine wine. Cannabis enthusiasts took an interest in different strains, becoming familiar with the unique variety of colors, shapes, and aromas of each species of cannabis.
Today the cannabis culture is at a place no one could have ever imagined. As legal markets expand, some of the greatest minds in genetics, botany, and biology are attracted to the cannabis industry. The result is thousands of unique strains of weed ranging in effects as well as physical appearance.
MasonBrite celebrates the journey of cannabis by allowing stoners to view their high-quality herb in optimal light and magnified to 5x its original form.
MasonBrite for Growers
Cannabis farmers are connected to their products on a spiritual level. They put their heart and soul into getting the highest quality product possible. It's truly a shame to store their crafted nugs in a container that doesn't bring out the most of each and every trichome.
Growers can use MasonBrite to store their buds or use magnifying jars to sell their products. MasonBrite allows growers to put their craft on full display by illuminating each nug.
Dispensaries Need an Optimal Viewing Experience for Customers
Cannabis users are some of the pickiest consumers. They know what quality looks like and can spot a jar of OG Kush from a mile away. Dispensaries can utilize the MasonBrite lids to give their customers the best view possible, increasing each sale and driving revenue.
When someone is buying cannabis, they would prefer to have the closest view possible. Allowing every customer to take weed out of the container slows down each sale and lowers the quality of each nug. MasonBrite Keeps cannabis fresh and speeds up the process. Many dispensaries use chopsticks to give their customers a view of each nug, requiring the budtender to open each jar each time. This process is both time-consuming and lowers the quality.
Superiority cannabis sells itself. Dispensaries just need to give their consumers the means to find the weed they are looking for. Using MasonBrite allows retail marijuana dispensaries to increase sales and lower buying times by illuminating and magnifying their product.
An Exquisite Coffee Table Piece
Observing the complex shades of green and purple is a favorite pastime of all stoners. No other plant on each offers such a diverse physical appearance. Deep purple Grand Daddy Purp to icy Super Silver Haze deserves to be put on full display in every stoner's smoking spot.
Adding MasonBrite to your coffee table offers a great conversation piece as well as a modest flex showing off your high-quality cannabis. We guarantee your friends will be lost in the glistening trichomes every time they come over to get lit.
Bring Back the Session this Summer with MasonBrite
Whether you are a master grower, own a dispensary, or just a cannabis enthusiast, MasonBrite offers all cannabis lovers a window into an alternate dimension of superb greenery. Spread good vibes by sharing the gift of cannabis as we get back to normal.
Cannabis deserves to be admired. Thousands of years of genetics have gotten used to this point. Respect this magical plant by putting it on full display with MasonBrite.
Learn more at www.MasonBrite.com