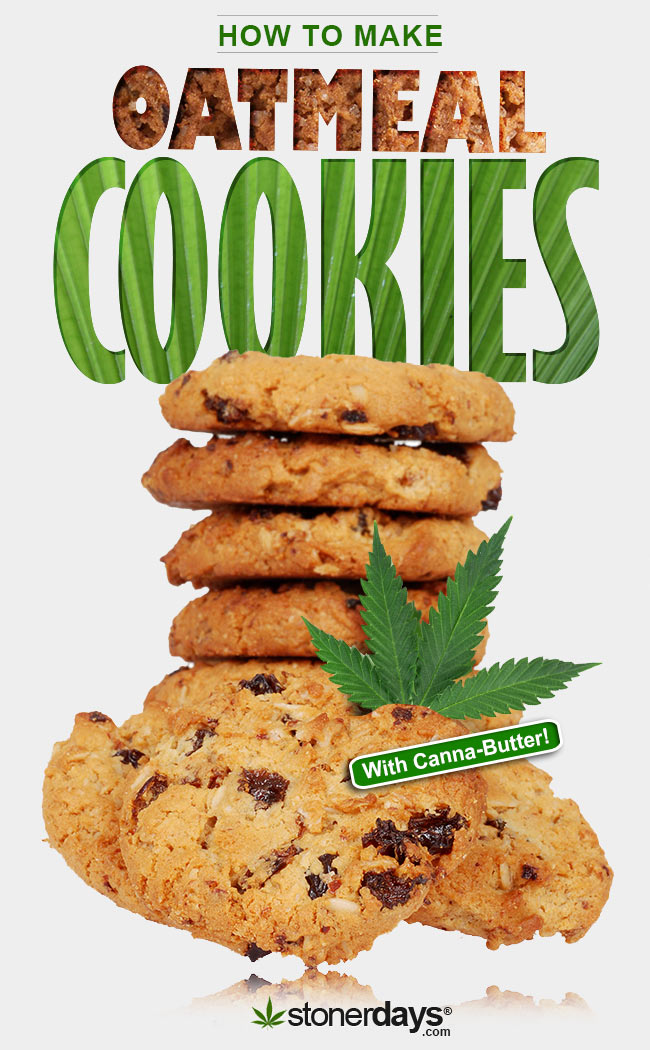 How to Make Oatmeal Cookies with Marijuana:
Oatmeal cookies provide such a hearty bite that it's hard not to fall in love with them, especially when you've got oats and raisins falling out of your mouth. Raisins and oats are both good for your health and so is cannabis. So it's only right that they join forces to produce this super cookie. So if you love eating, and you love Mary Jane it's time to start cooking!

1 ¾ Cup of flour
½  Teaspoon of baking powder
¼  Teaspoon of Baking soda
3 Cup of Oatmeal
2 large eggs
¾  Teaspoon of salt
1 Teaspoon of vanilla extract
1 ¾  Cup of Canna-butter, melted
2 Tablespoon of vegetable oil
1 Cup of sugar
1 Cup of brown sugar
1 ½  Teaspoon of cinnamon
1 ½  Cup of raisins


 First heat your oven to 350 degrees. Line a cookie tray with wax paper or use a non-stick pray so you won't have the headache of cooies that don't want to come off the pan.

 In a bowl, combine flour, baking powder, baking soda, cinnamon, and oatmeal, mix well. Grab another bowl and beat eggs, salt, and vanilla. In another large bowl add the canna-butter, oil, and both sugars. Add in the egg mix until creamy and smooth. Then pour in the flour mix and stir everything in together. Now add in the raisins and mix once more.

 Roll the cookie batter into whatever size balls you'd like and put them on the cookie sheet and into the oven to bake for 12-15 minutes. After they're out the oven let them cool for a bit. You'll love biting into these scrumptious cookies, especially when you know what's in store. Enjoy Making Oatmeal Cookies with Marijuana!