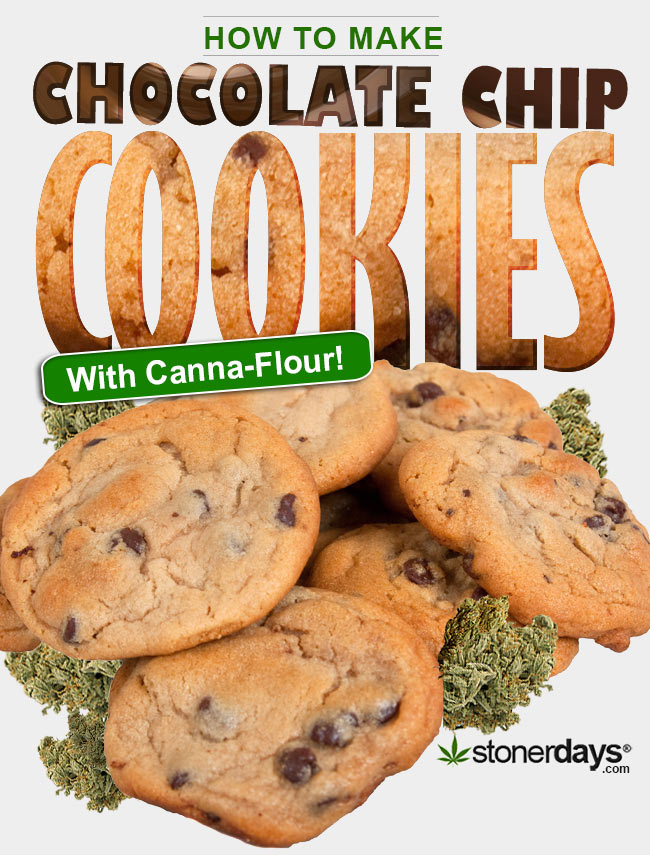 How to Make Marijuana Chocolate Chip Cookies:
Learn How to Make Marijuana Chocolate Chip Cookies! Without a doubt these were the cookies cookie monster was so chronically addicted to. Everyone and their mom loves chocolate chip cookies. They possess a flavorful chocolate and cookie taste that's simply irresistable and as a stoner, with these sweets you really get the best of both worlds. They put milk and cookies in a whole new dimension and chances are you'll want to be there for a while.

1 Cup of Cannabutter
1 ¼ Cup of sugar
1 Tablespoon of molasses
2 Teaspoon of vanilla extract
2 ½ Cup of flour or canna-flour
1 Teaspoon of baking soda
1 Teaspoon of salt
1 ½  Cup of chocolate chips

 Preheat the oven to 350 degrees. While that's getting hot, cover a cookie sheet with wax paper to make them easier to remove when they're finished.

 In a mixing bowl combine the canna-butter and sugar. Then add the molasses and vanilla. In a sperate bowl mix flour, baking soda, and salt. Next add the dry mix in with the canna-butter mix and make sure everything's well combined. After all the ingredients are mixed in well and partying together, fold in the chocolate chips.


 Roll the dough into spoonful size balls and line them on the cookie sheet. Put them in the oven to bake for about 8-10 minutes or until golden brown. Take them out to cool and you're done. So sit back, relax, and get cozy with your canna-cookies. You've just learned How to Make Marijuana Chocolate Chip Cookies!