Top 10 Stoner Activities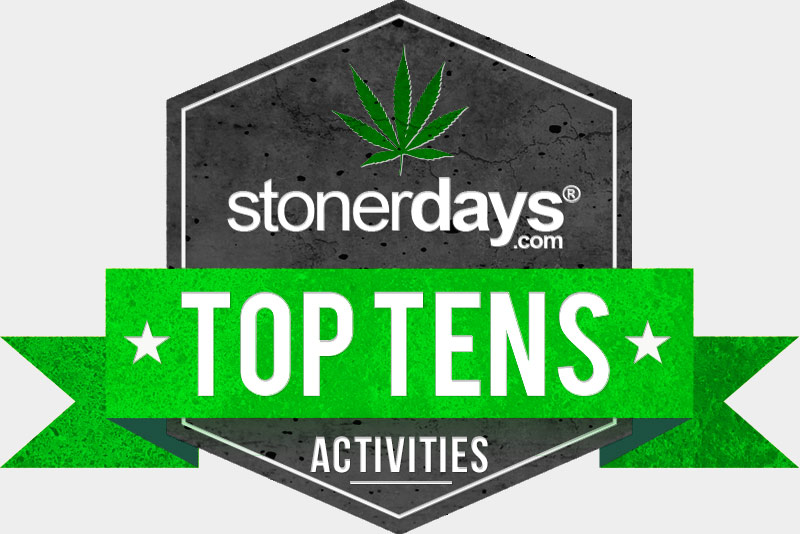 Music Festivals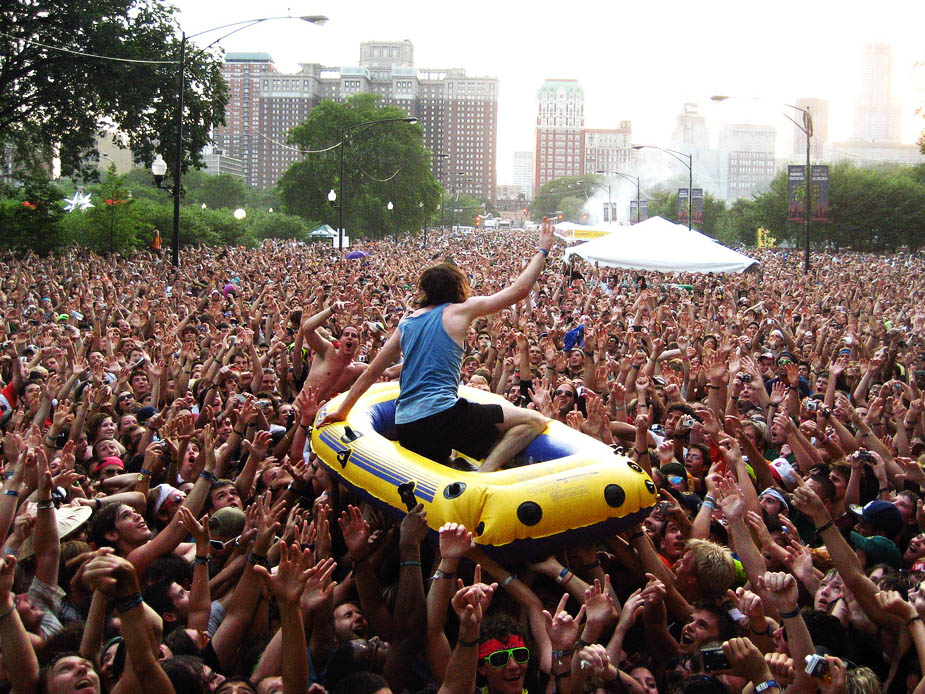 Music Festivals are one of the most beautiful human gatherings on the planet. A grown-up Disneyland full of art, dancing, costumes, freedom, and of course, live music, music festivals reignite humanity. Many American music festivals such as Coachella, Lightning in a Bottle, Bonnaroo, Lollapalooza or Enchanted Forest establish a 2-3 day utopia, where its patrons eat, sleep, live, party, and experience life in its purest and rarest form. While many music festivals are a big expense involving food, transportation, tickets, accommodations and other party favors, where there is a will there is a way. I have sneaked into over 40 music festivals, spending a little under $100, and sometimes even $0, for a priceless life experience. Imagine standing with thousands of friendly strangers on a soft grass lawn in front of a massive stage, shining on you a rainbow of lights, worshipping your favorite band playing songs that make you shiver, even though you're in the warmth of your closest friends, and passing a joint, forgetting every care and just enjoying the moment with your faithful companion, Mary Jane. A truly spiritual experience, live music is powerful enough to change the world. In a country full of lies and deceit, it is refreshing to find a place where you can walk through the crowd, spark a bowl, and the only reactions you receive are warm smiles and good vibes.
---
Disc Golf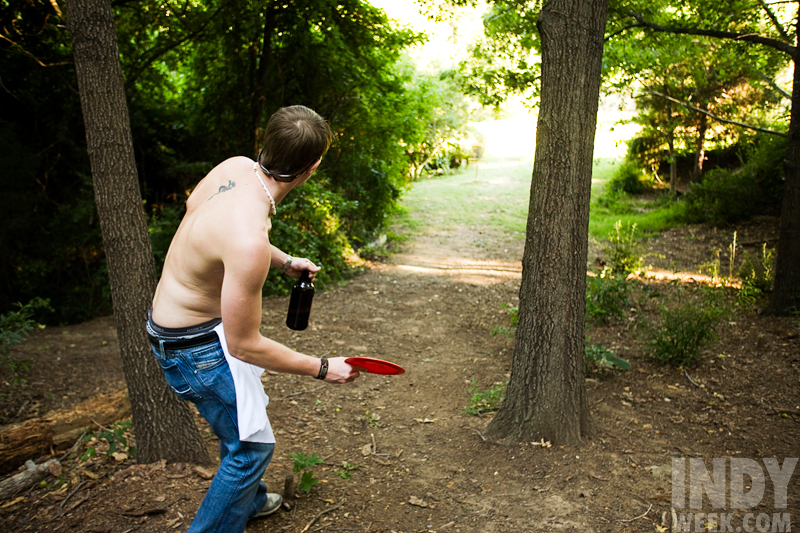 Also known as Frisbee Golf, or "Frolf," Disc Golf is the unofficial sport of stoners (though there are many professional non-stoner participants who do not like that reputation) in which players toss Frisbees into a metal basket target. The courses and rules are similar to golf. Most disc golf courses have 18 holes, but some, like the one in Santa Cruz, California, for example, can have up to 27 holes. While this sport does require skill, it can be enjoyed by novices and professionals alike. The Disc Golf course in Huntington Beach, California is one of the oldest and most famous in the US, established over 20 years ago. It only costs $1 on the weekdays and $2 on the weekends. This sport does not use conventional Frisbees but rather a heavier, denser version more similar to a discus. If you don't have your own, most courses will rent them for less than $5. A much more laid back setting than most golf courses, be sure to pack a backpack full of beer, snacks, and water, because there are no golf carts, only your Chevrolegs. If you find yourself at Central Park Disc Golf course in Huntington Beach, California, make sure you stop by the wooden bench at hole 5 as it is named by locals, the most smoke friendly spot in Orange County.
---
Hiking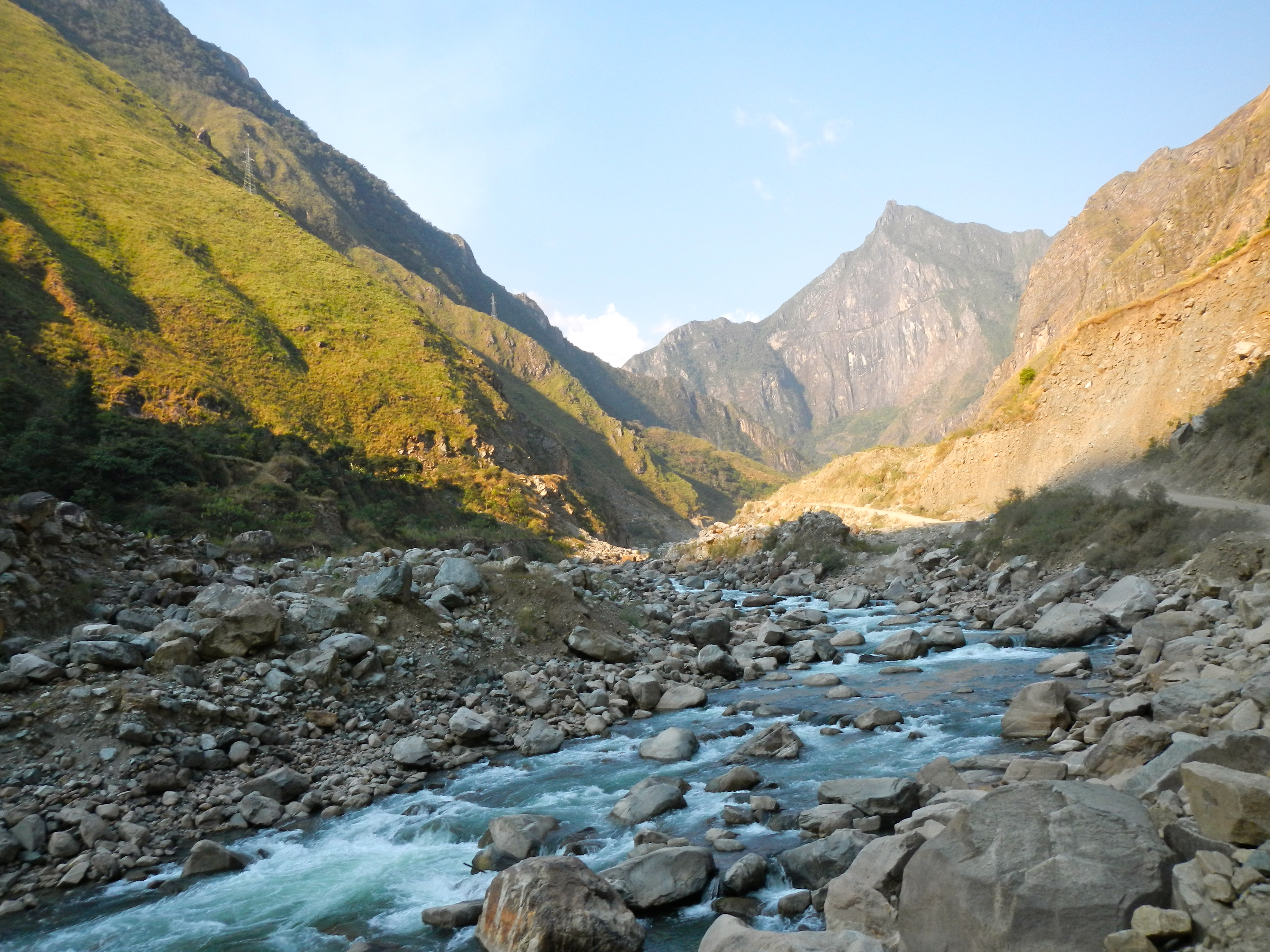 Strenuous exercise does not always sound desirable to the avid cannabis smoker but sometimes you have to fight the overwhelming inclination for laziness. The beauty of hiking, is that there is a trail for everyone. There is no need to be over zealous, the point of the activity is to be pleasant. Pack your water, roll up your best sativa, and bring plenty of snacks because there is nothing worse than being unprepared in the wilderness. The best way to remain motivated is to hold off on smoking until you begin the hike. There is something serene and fulfilling about sparking a bowl of the holy herb surrounded by Mother Nature's finest. Help change the stoner stereotype, make the best of your high and enjoy the great outdoors. The best part about hiking is that it's free, and Mary Jane always appreciates a beautiful day in the sunshine.
---
Eating
"The munchies" are one of the most common side effects of marijuana use. Instead of letting the munchies control you, take control of your munchies. While the appetite that cannabis gives you can sometimes lead you down a path of sodium, preservatives and high fructose corn syrup, use that appetite to feed your body with delicious food and if possible, healthy food. Treat your taste buds to something new, something exotic, or whatever tickles your fancy. Make the best of your munchies because the better the food, the more rewarding the experience.
---
  Sex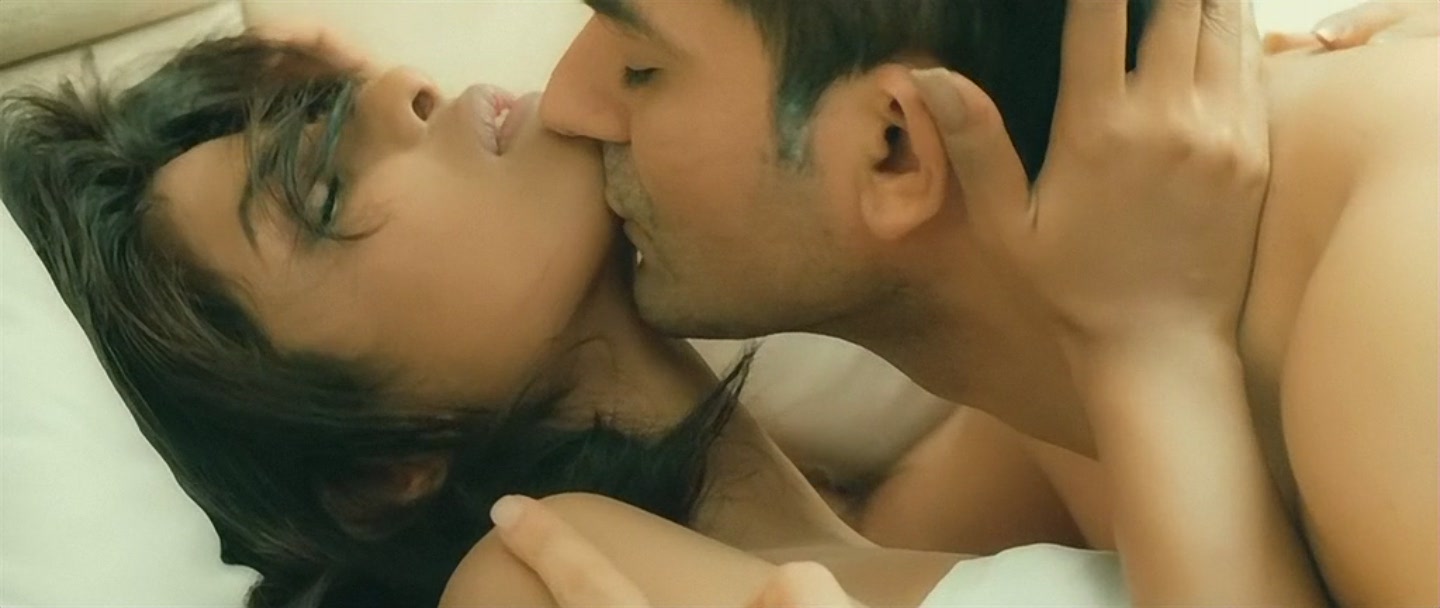 Don't let marijuana slow down that libido. While there are many misconceptions that marijuana is a hindrance to intercourse, the experience is truly what you make of it. It is most enjoyable if both partners share the experience of smoking together, allowing sweet Mary Jane to enhance your sensuality. With the right music, setting and partner, marijuana can be your gateway to an amorous evening of sensory bliss and sexual pleasures. Cannabis advice columnist, Mamakind, compiled some of her best editorials into a book titled Sex Pot: The Marijuana Lover's Guide to Gettin' It On. If you and your partner in crime are ever feeling adventurous, read a few of her witty, pleasure-filled passages and be inspired.
---
Art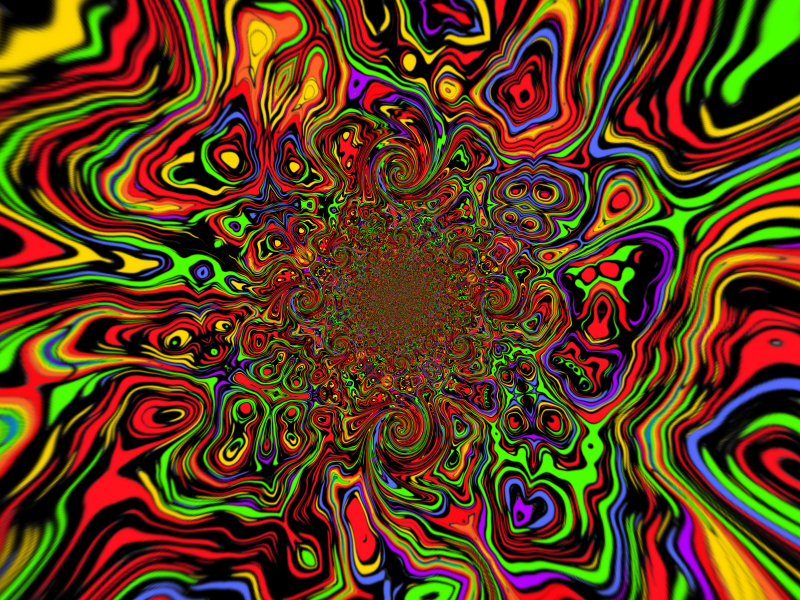 For the artistically inclined, or those who want to be, smoke a joint and pull out those pencils, markers, color pencils, paints, or whatever medium you have available and feel the satisfaction of creation. For decades, marijuana has been used as a vessel for creative exploration. In the autobiographical book Just Kids by Patti Smith, she describes her lifelong friendship with artist Robert Mapplethorpe. Patti Smith, an artist herself, never indulged in marijuana, thinking that it would slow down her artistic process. After witnessing the multitudes of artists who used cannabis during their creative process, including her soul mate Robert Mapplethorpe, in the Manhattan art scene of the 1960s, she decided to give it a chance. After reading her book, I am glad that she did.
---
Listen To Music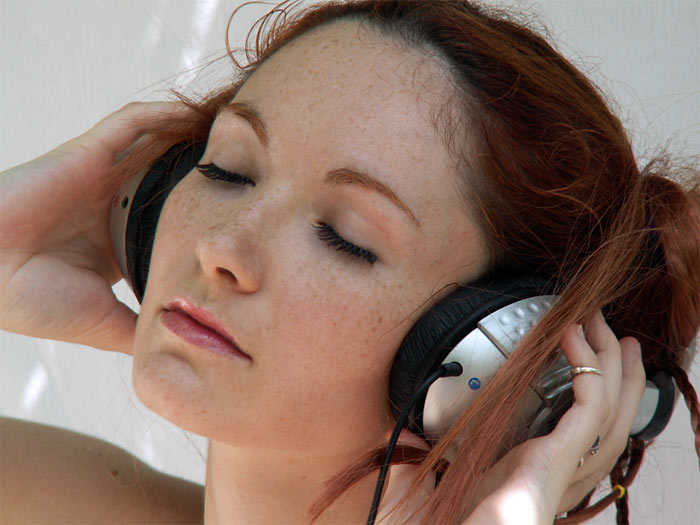 Before the era of iPods, television, and video games, there was the almighty vinyl. It is still considered by loyalists as the best avenue of listening to music. Regardless of whether or not you have a record player, when was the last time you listened to music without a visual aid? I challenge you to smoke your favorite strain, put on your favorite artist, close your eyes, and let the experience take you away. Let your heightened senses feel the music vibrate through your soul and the poetic lyrics stimulate your mind. If you need some stoner-friendly musical suggestions, check out our Top 10 Songs about Weed for some inspiration.
---
Play An Instrument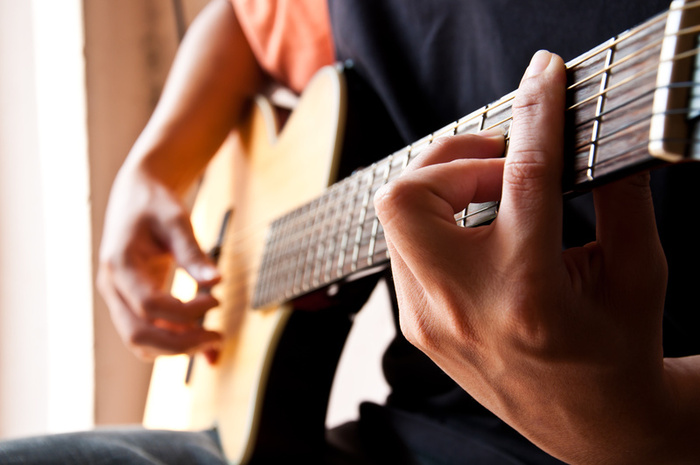 Though playing a musical instrument is a specialized skill, it's never too late to learn. For those of you who can, don't be lazy, smoke a bowl and pick up that guitar (or piano or saxophone or French horn or whatever). Music and marijuana have gone hand in hand for decades. One of the most influential moments in rock and roll history was when Bob Dylan smoked out the Beatles for the first time. Shortly after, Rubber Soul was released. Take listening to music to the next level and create it yourself. Whether you are writing original songs or practicing Led Zeppelin's "Stairway to Heaven," there's nothing like enjoying a melody that is played by your own hand.
---
Go To The Movies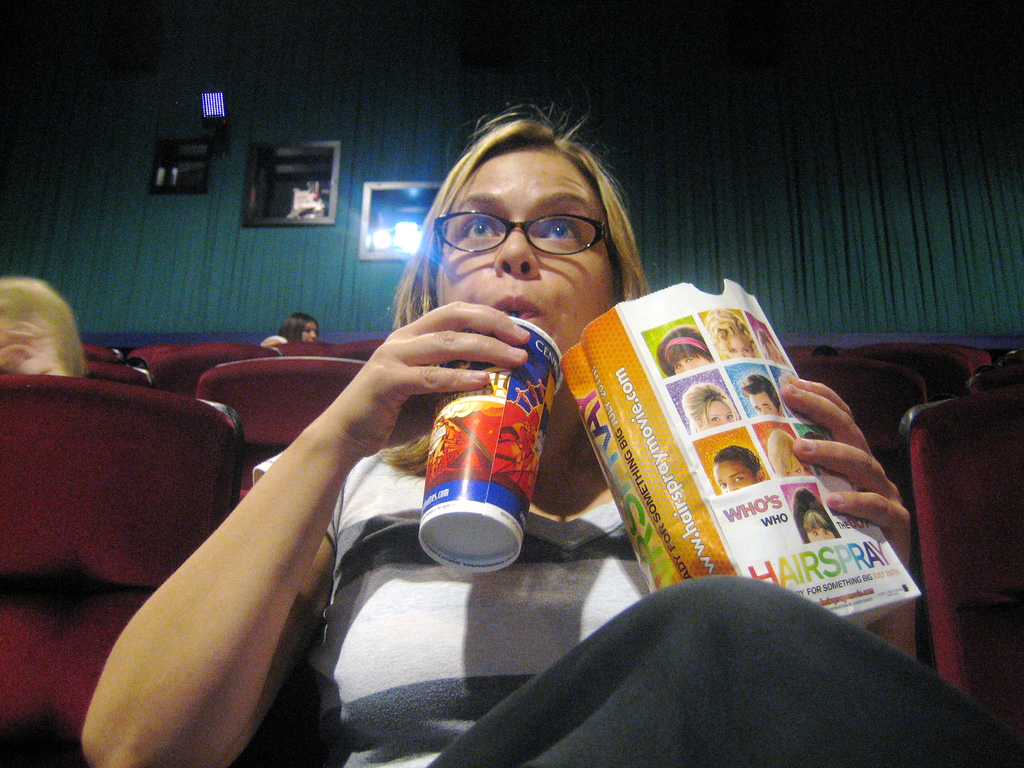 In my younger stoner days, going to the movies was one of the only options available. Though there are more choices available as an adult stoner, going to the movies is still a favorite. It can sometimes be easy to just stay in and enjoy your Netflix subscription, but nothing compares to the surround sound all encompassing experience of a theater. Whether you prefer horror, action, drama or comedy, pick your flick then flick your Bic and let yourself get lost in the exciting fantasy world that is cinema.
---
Video Games

I wanted to avoid the lazy stoner stereotype, but as a gamer I could not leave this activity out. Sometimes (not all the time) after a long day's work or a long night of partying, all you want to do is recover, smoke a healing bowl, and zone out into your favorite RPG or first person shooter. Video games and marijuana are a match made in heaven, catapulting you straight into the virtual reality that is Halo, Call of Duty, Elder Scrolls, NBA 2K13 or the hundreds of other gaming flavors available. Whatever your guilty pleasure is, reward yourself once in awhile by smoking a fatty and turning on that Xbox 360.