Strain Review: Massachusetts Super Skunk
Article brought to you by: highroulette.com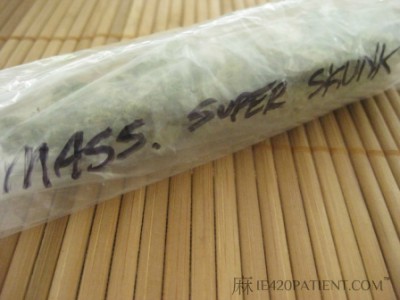 Strain Name: Massachusetts Super Skunk (Mass Super Skunk)
Grade: A
Type: Hybrid (Sativa Dominant)
Looks: Tight and somewhat dense marijuana nuggets with ample trichome coverage as if sprinkled in salt. A nice green color mostly "medium" in size with length, not so much girth. Noticeable areas of wrapped "orange" pistols.
Smell: Very sweet and perfume (musk) like. I was reminded of Clorets chewing gum.
Taste: Similar to its smell; a bit sweet and musky on the inhale with a flat carbonated soda like after taste.
Buzz Type: Starts energetic, ends relaxed.
Buzz Length: Average to Above Average (1 to 1.5 hours)
Summary: Massachusetts Super Skunk (aka: Mass Super Skunk) is an "interesting" strain as I was provided with a combination of buzz qualities of energy and relaxation that typically are not inter-twined with me.
After completing a bowl of Mass Super Skunk, I was immediately hit with energy. I had lots of cerebral tingle. This strain initially gets me going. I am very energetic about 30-45 minutes after a session. If wanting to stay energetic and productive, I had to reload at this time. If I did not reload, that "tingle" slows down with feelings of "pressure" taking over causing a relaxing state of mind.
With a heightened sense of awareness, I felt as if stress was released and I actually did not let external issues get to me. I did not have a "F… it!" attitude, but I noticed things that would get me worked up did not while medicated with Mass Super Skunk. A decent daytime smoke, I did get focused. I actually cleared my plate of a few pending issues (things I've been dreading so putting off) which was good such as completing an online traffic school course in about 2 hours!
Scent and taste was sweet musk like. I detected a slight hint of chlorophyll which brought back memories of an ex who solely chewed Clorets gum. Although my marijuana nuggets felts somewhat dense, they did smoke quick, thus I found a typical session to be two bowls vs. one.
Overall, Mass Super Skunk is nice Sativa dominant hybrid strain, but if not reloading often, I'd fall into a very relaxed state of mind to the point of actual laziness.