STONERDAYS IS NOW ON ETSY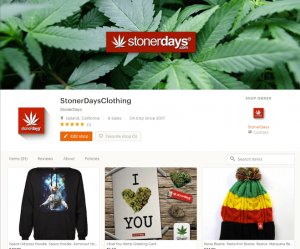 StonerDays is now on Etsy after 5 solid years of online business selling the best marijuana apparel the world has ever seen. We've taken some of our top sellers and put them all in one spot for every stoner to enjoy. StonerDays on Etsy offers Hoodies, Tees & Tanks for the stoner who want to go out and rep their pride for cannabis at any smoke sesh. We offer Posters, Coffee Mugs & Dab Mats for the stoner who wants to upgrade their indoor sanctuary of smoking the fine kush. For a person looking to get a gift for their fellow stoner we now offer Hemp Greeting Cards for any occasion.
StonerDays is revolutionizing the industry with hemp
StonerDays has now moved into the hemp game. Our Hemp Greeting Cards are a fan favorite. Where else can you buy your pot head dad a Happy Fathers Day cannabis themed gift. Every item in our shop is made in Southern California by stoners for stoners. Our Stoner Cali attitude comes out in all our designs. Whether it's some trippy ass palm trees blazing in the sun or some rastafarian waves crashing across your chest. We are happy to announce that one of our future goals is to bring in a complete hemp line of apparel. We have a team of growers currently making Hemp for the softest and best feeling Hemp Apparel on the planet.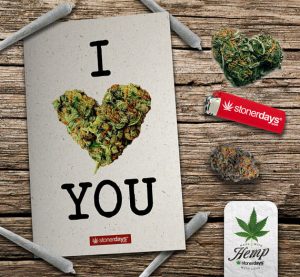 Our office has the fine cannabis smoking  all day everyday. We are putting the taboo saying that stoners are lazy to rest. Our team is relentless when it comes to our desire and artistry for marijuana. Take a look into our world and see the amazing collections we have come up with. Our team has traveled the world and experienced some of the top cannabis destinations. We have blazed with stoners worldwide and we are fighting to get cannabis legalized for every citizen on earth. If you love smoking weed take a look at what StonerDays has going in their new Etsy store.