Gingerbread Cannabis Cupcakes with Cream Cheese Molasses Icing
Oh the holidays are here again! If you're celebrating this Christmas stoner style, you're sure to be looking for some goodies to grace your dinner table on Christmas Day. And if you're not celebrating Christmas, well… These Gingerbread Cannabis Cupcakes are delicious and you don't really need a reason to make them. If you like gingerbread and you like cannabis, there's like a 95% chance that you will absolutely love these cupcakes. No holidays required (although it is that time of year).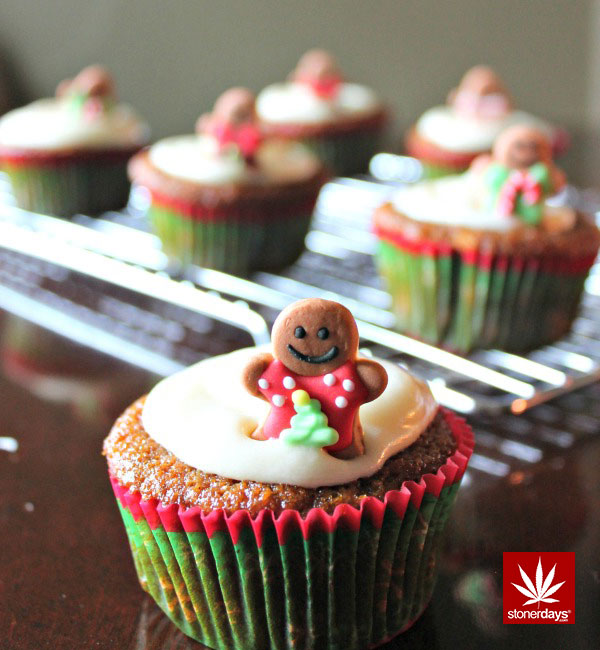 What You'll Need (For the Gingerbread Cannabis Cupcakes):
1/4 teaspoon salt
1 teaspoon baking powder
1/4 teaspoon cloves (ground)1 tablespoon dried ground ginger
1/4 teaspoon ground nutmeg
3/4 cup brown sugar
1/3 cup molasses
1 3/4 cup all purpose flour
1 1/2 teaspoon cinnamon (ground)
3/4 teaspoon baking soda
3/4 cup milk
2 large eggs
4 grams kief, hash, or hash oil
1/4 cup melted butter
What You'll Need (For the Icing);
1/8 cup molasses
1 teaspoon vanilla extract
8 ounces room temp cream chese
1/4 cup butter at room temp
2 tablespoons coarse raw sugar
4 1/2 cups confectioner's sugar
How To Make Gingerbread Cannabis Cupcakes with Cream Cheese Molasses Icing
Start off by preheating your oven to 350 degrees and line sixteen muffin tins with cupcake liners. Using a small bowl, combine the baking powder, flour, salt, ginger, cinnamon, baking powder, cloves, keif or hash, and nutmeg. Stir until it's well combined and the mixture is smooth. Beat together the melted butter, brown sugar, molasses, milk, and eggs until they are well blended in a separate bowl. Combine all of the ingredients until the batter is smooth and fill each of the lined muffin cup 3/4 of the way full with the mixture. Put the cupcakes in the preheated oven and let them cook for 15-18 minutes. Be sure to test them with a toothpick to make sure that they are cooked all the way through. Let the cupcakes cool before frosting them to be sure the frosting isn't too runny.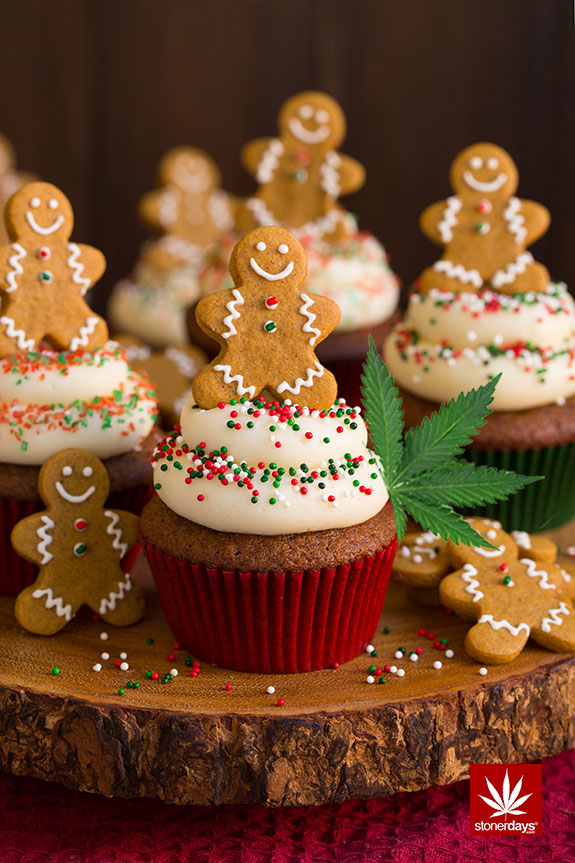 To make the icing (which you can totally throw together while your cupcakes are cooking), all you have to do is beat the cream cheese with the butter with an electric mixer. Beat in the molasses and the vanilla extract and then proceed to beat in the powdered sugar. Continue to mix until the frosting is smooth and then use the back of the spoon to spread the icing on top of the cupcakes, after they cool of course. Then you can sprinkle the coarse raw sugar over the top of the icing and bam! Your cupcakes are ready!