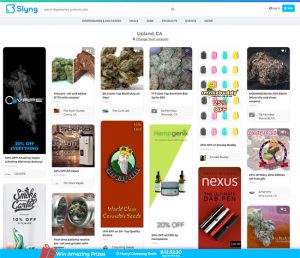 Have you heard of Slyng.com yet? If you haven't, Slyng is an immersive site that allows for people to discover, learn, review, and engage with others in the cannabis community. Basically, it's like a Groupon for cannabis deals. You can find discount codes for premium vapes, local dispensary deals, news, and community aspects such as job opportunities and events.
Something that differentiates Slyng from other sites is that you can actually win prizes just for leaving reviews. Slyng is completely gamified, meaning that after you create an account on Slyng and leave reviews for your favorite products, dispensaries and/or delivery services, you'll gain 5 points per review. These points add up and you'll be able to trade them in for awesome prizes – shipped right to your door!
If that doesn't convince you, Slyng also hosts monthly giveaway's that you can enter to win even more prizes. They've given away countless prizes including a Flytlab Lift, Boundless Tech CFX, and other awesome products. So the next time you're looking to find a deal before walking into your favorite dispensary or need to know some honest answers before shedding that $200 on that vape, check out Slyng first!