Marijuana Comic James Bong Cannabis Crusader
Well, it's been over a year since the passing of the torch from the nation's favorite cannasseur-in-chief, Budrock Obama, to President Tweet and his ironically named, super anti-cannabis Attorney General Joint, I mean, Jeff Sessions. Everybody at the JOINT Agency, Justice Organization Involving Nugget Technology, misses our Bud very much. So on this marijuana comic we decided to celebrate the cannaversary, or rather mourn the passing, and share this cannabis comic about the time Mr. Bong, James Bong, painted the White House green.
There's a saying around the JOINT. It's a saying that's been at the core and the heart of the agency since the sparking of the very first JOINT, a saying that rhymes, and that saying is: puffsnotcuffs. And this mantra is more relevant every day, as activists and patients and freedom fighters everywhere struggle to remove the cuffs and take more puffs.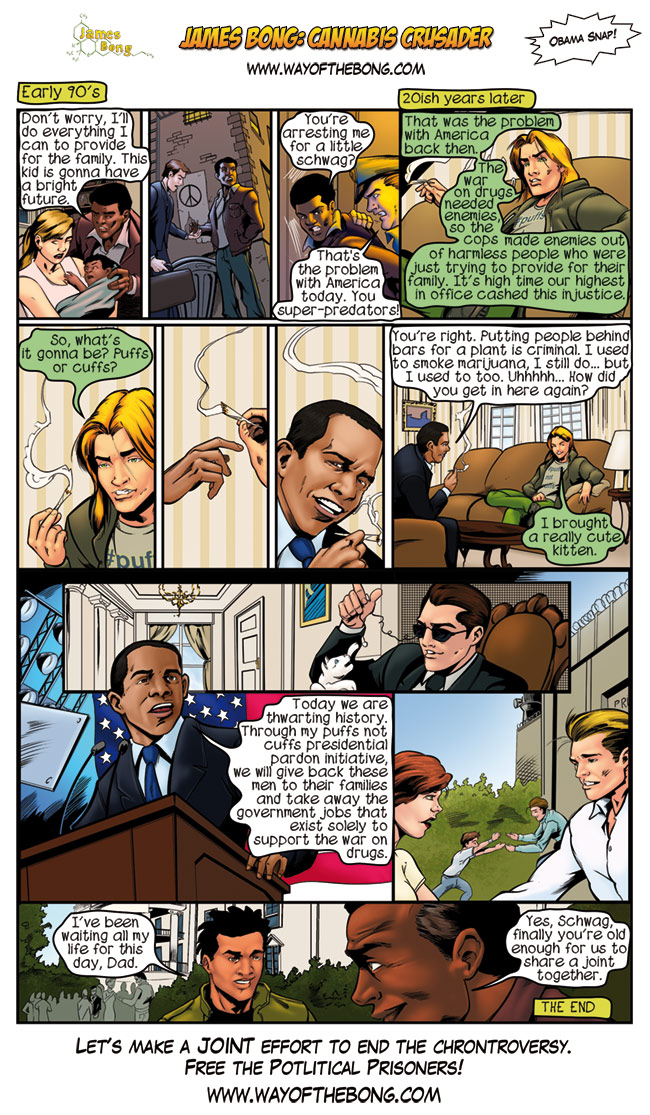 With a zealously corrupt organization enforcing unjust laws. JOINTS mission is more clear than ever. Luckily, James was able to coax his way into the Oval Office. Making an ally with the power of his words and the potency of his buzz, just before the changing of the guard.
As usual, Mr. Bong's adventures are brought to you by a global coalition. Talents converging from across borders to spread the buzz, and our good weed ambassadors at stonerdays deliver the message.
Let's work together to make America High Again. Truly One Nation Under Bong. A Land of the Free and Home of the Buzzed. Enjoy!"
Danks, I look forward to your reply!
By: James Longshore
Vigilante Entertainment