Landon Riddle Story Updated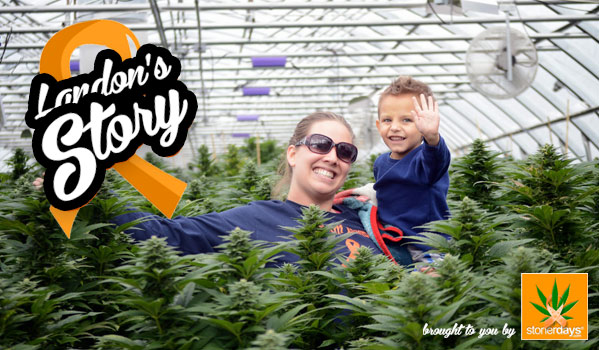 On September 30, 2012 Landon Riddle was diagnosed with T Cell Leukemia. Sierra Riddle received the devastating news that Landon was only given around a 10% chance to live beyond 24 – 48 hours. Landon beat the odds and began Chemotherapy treatment. There was immediate placement of a port into his heart for delivery of Chemo and within 30 days both his physical and psychological quality of life had diminished to a state that would break any mother's heart.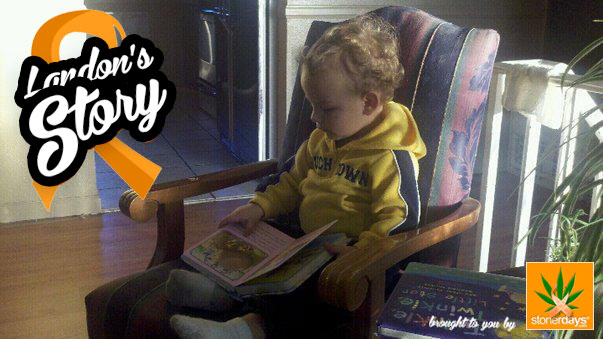 Sierra updated their Facebook page Offer Hope For Landon on October 4, 2012.
Landon has been very down and in discomfort today, but we are getting to leave tomorrow sometime! YAY! we have chemo and a lot of procedures on Monday morning so we are going to stay in Salt Lake until then so he can rest and be in a quiet environment and not have to travel in the car back to back to back! We are very thankful he was progressed as quickly as he has, but he is not out of danger yet, infection and illness are going to be huge factors in his recovery. I'm very overwhelmed today and feeling really broken, but I am glad I can hold my baby boy in my arms and feel him breathe, there are always things to be grateful for!
This was only the beginning of little Landon's struggle.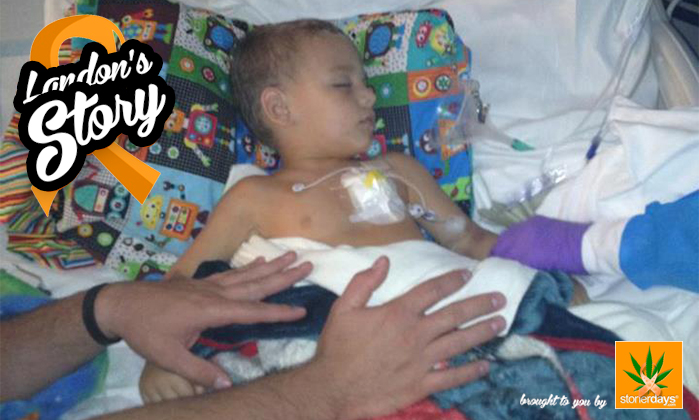 The doctors told Sierra that once Landon was released from the hospital, it will be best for him to continue about his life as normal as he will have a better chance of healing; however, he will be required to travel back and forth to Salt Lake (12 hours round trip) every 4 days in order to receive his chemo treatments. This put a significant financial strain on his family.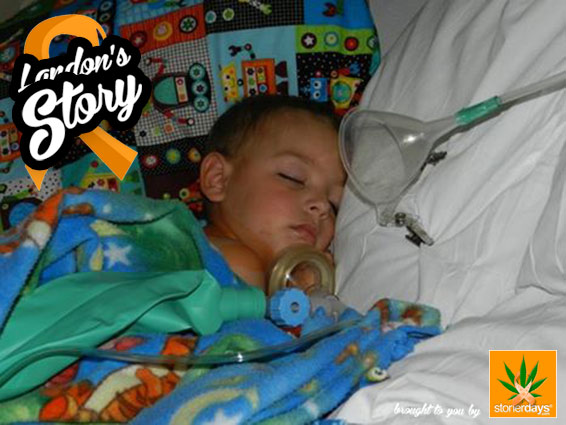 Landon was soon readmitted into the hospital as doctors were unable to get the fifth liquid medicine into him. There doctor said they may have to surgically insert a feeding tube. Landon can not understand why he must drink "yucky" medicine as he is held down to take them, he bruises easily and asks the doctors,
Why are you giving me owies?
As Landon is held down for the tube that would go down the back of his throat and into his stomach, he fights and screams and eventually pulls the tube back out of his mouth. Landon is given time to calm down and the nurse prepares to start all over again, Landon politely holds up his hand and states, "No, it's okay, I'm not sick anymore." The families hearts break and know that they must try again.
Unfortunately, this is only a glimpse of the horror's little Landon and his family had to face.  As time passes Landon only got worse eventually losing his hair, losing weight and constantly vomiting. Its not until Sierra has to make a decision. Go with the majority of the population of the world that believe there is only one "choice" for cancer, chemo. Or choice a path less taken, a choice that could have a huge outcome not only for Landon's health but their very own family name. On April 21, 2013 Sierra writes on Landon's Facebook Page;
A very good friend of mine sent me information in the first 30 days of Landon's diagnosis. I was in total shock. She was diagnosed with pancreatic cancer and was basically coming to the end of her life. She chose to go a different route than chemo, and today she is cancer free! The digging, research, phone calls, hours of exhaustive reading, medical studies done by our own government and many research doctors all showed there was an option that has been around for thousands of years.
With Landon's type of Leukemia and the fact that he is a high risk patient, there was too much risk to go with only natural treatment. They kept that fact very quiet in fear of being judged. They discussed this with all of there family and made the choice to move forward with cannabis treatment.
They headed to Colorado for Sierra and Landon to obtain legal residency, for Landon to meet with doctors, and to start Landon on Cannabis CBD oil treatment. Landon  had miraculous results. He ingests this oil 2 times per day. CBD is the medicinal part of the cannabis plant and contains less than 0.2 percent THC, which means it has no psychoactive effect. The THC part of the plant when ingested in its raw form (oil), is amazing pain relief, amazing appetite enhancer, and counter-acts the horrible effects of the steroids and chemo which cause anger, anxiety, etc. This is why Landon began to gain weight back, why Landon is sleeping, why Landon's body is being protected against the damage of the chemo, why his immune system is that of a normal healthy child, even with intense chemo treatment.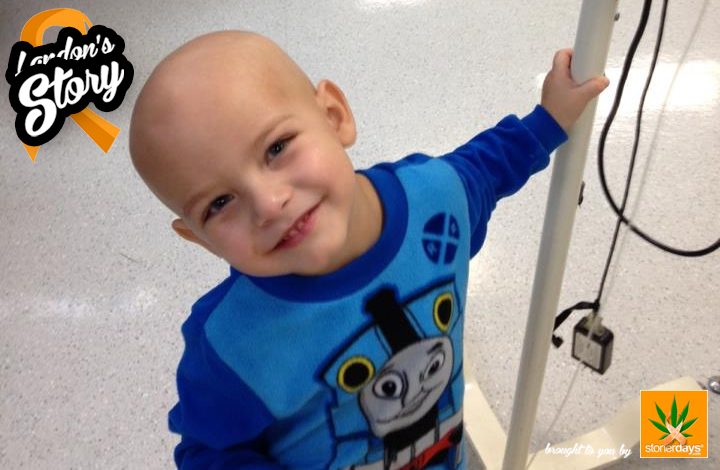 Time passes and Landon's health seems to be improving and Sierra is convinced that her son is not only being helped by the cannabis but that the cannabis is actually healing him of the cancer completely.
Sierra was right, the cannabis oil not only helped little Landon with his pain, appetite, weight gain, sleep and much more the cannabis oil literally cured him of cancer. Today 10/21/2014 at Children's Hospital Colorado Landon had his Port removal two years earlier then Protocol Treatment. Landon is 100% CANCER FREE!! 
Søren Kierkegaard said:
There are two ways to be fooled. One is to believe what isn't true; the other is to refuse to believe what is true.
From all of us at StonerDays;
You did it LANDON!! You will always be an inspiration in all of our hearts.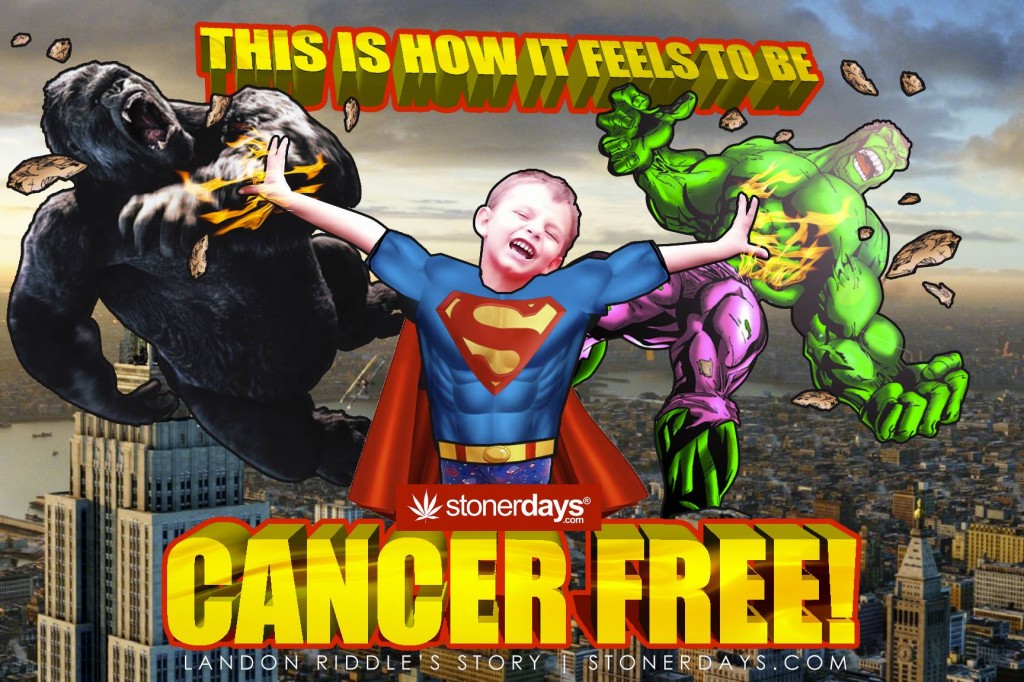 Please share this awesome story and like there Facebook Page at Offer Hope For Landon
Landon Riddle Story Updated