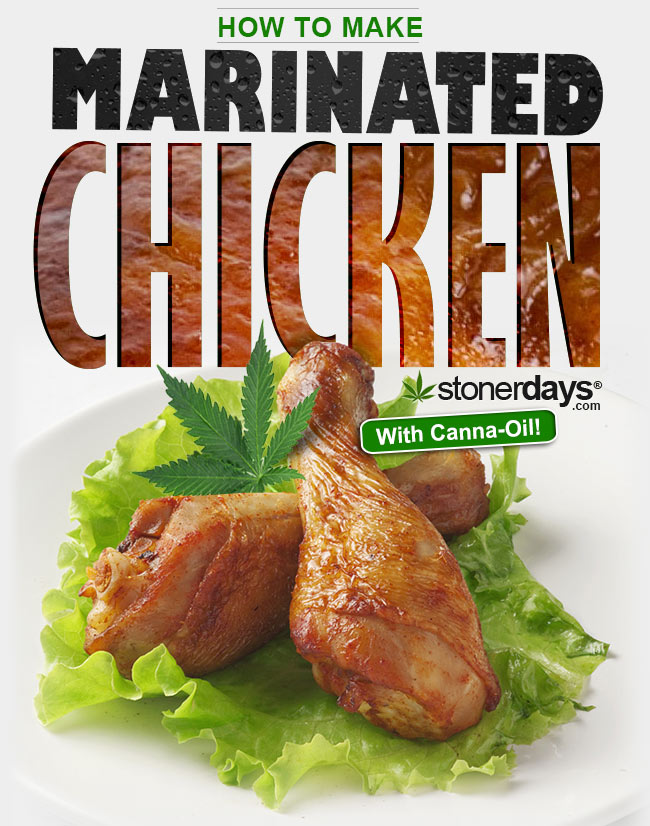 How to make Marinated Chicken Legs with Marijuana:
How to make Marinated Chicken Legs with Marijuana… Stoner life isn't all about snack,s and we do know how to enjoy a well cooked savory meal. Chicken is the bomb, and pretty much everyone on the planet agrees, but chicken that gets you high; whoa!  This recipe is a weed smokers dream meal. The marinade is delicious and penetrates through the chicken legs to give you a burst of moist chicken flavor in every bite. Grab a leg and eat it alone, or serve with your favorite side for complete satisfaction.

4 skinless, boneless chicken breast halves
2/3 Cup of canna-olive-oil
¼ Cup of lemon juice
2/3 Cup of low sodium soy sauce
2 Teaspoons of garlic powder
2 Teaspoons of spicy brown mustard
2 Teaspoons of ground black pepper

 We're going to start with the marinade, so grab a large mixing bowl and pour in canna-oil, lemon juice, mustard, soy sauce, pepper, and garlic powder. Mix them together. Now place your chicken in the marinade making sure it's completely coated in the mix.

 Cover them with plastic wrap and let it sit in the fridge for about 2 hours or longer. (The longer it chills in the marinade the better the taste and the high) After the time passes, preheat your grill to high heat and pour some of the chicken juice on the grill to oil it up and further cook the flavor into the legs. Now put the chicken on the grill and pour the rest of the mixture over top it right after throwing it on the grill.

 Now let it cook on the grill for about 8-10 minutes or until the insides are no longer pink (when checking for pinkness, pick the largest part of the chicken). If you like your grilled chicken smothered in perfectly sinful sauce, use 2 cups of honey BBQ sauce with 2 teaspoons of canna-oil and stir together, it adds a great finishing touch. This is what you would call a gourmet way to get blown, bon appetit!