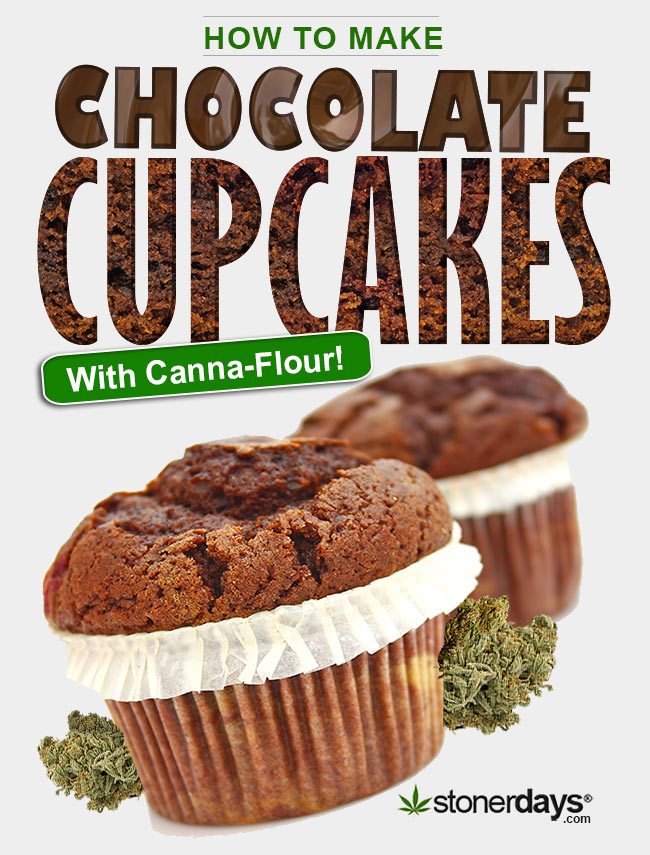 How to make Marijuana Chocolate Cupcakes:
A true stoner bakesale just wouldn't be complete without the cupcakes! Cupcakes make a great all in one dessert bite and you're sure to be amazed by just how delicious they can be with an added touch of canna-flour for an elevated kick that's much more exciting than your grandmother's recipe. These light and fluffy little cakes give you more than just a sugar high and you'll be reaping the benefits of your baking in no time.


1 Teaspoon of baking powder
1 Teaspoon of baking soda
1 Teaspoon of salt
2 Teaspoons of vanilla extract
1 ¾ Cups of canna-flour
2 Cups of sugar
¾ Cups of coca powder
1 Cup of butter milk
½ Cup of vegetable oil
1 Cup of freshly made coffee
2 Large eggs, room temperature

 First things first, set your oven to 350 degrees, then begin lining your muffin tin with cupcake paper liners and set that aside for later.

 Using a large mixing bowl or an electric mixer you want to sift in the baking powder, baking soda, salt, cocoa, sugar, and canna-flour and mix them well. In another mixing bowl begin adding the wet ingredients, eggs, vanilla, buttermilk, and vegetable oil and mix on low speed in an electric mixer or whisk together briskly by hand. Next slowly pour the wet ingredients into the dry ones while simultaneously mixing everything together. Once you have your mix, stir in the coffee with a rubber spatula as not to "over mix" your batter.


 Fill the cupcake tins with the batter about 2/3 of the way full to leave room for your THC treats to fluff up and be pretty. Put them inside the oven and let them hang out in there for about 17-20 minutes or until completely cooked in the middle. (Poke a toothpick in the middle of the cupcakes to check, if the pick comes out clean with no batter then they're done) When they're finished in the oven let them sit for 5-10 minutes to cool. Now it's time to hand out these yummy marijuana chocolate cupcakes and get couch locked. You says you can't have you cake and get high too?