Holy Grail of Head Shops
As you can probably imagine, being a young adult of the somewhat-privileged white male variety, I've checked out so many smoking-related stores that I won't even consider naming them all. So instead I'll give you my "top 10" from my city, then you all can leave me feedback, so as I travel to more places, my list of homes away from home can expand.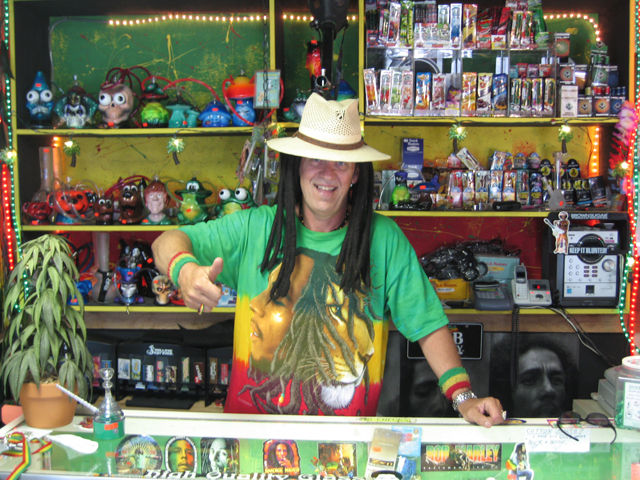 These are in no particular order, just, as I remember them:
1.) BLAZE
This place sells cheap glass, hires nice people, and always has a beautiful gem in the case.
2.) TRAILS
Hate on it all you want, they won the right to say bong inside their chain of stores legally in court, enough said.
3.) COUGHING CANARY
I'd say they are the Eastside "rival" to number 9, carrying major name brands, complex functional art; high dollar. 'Twas most recommended by friends whose heads I polled.
4.) PARAPHERNALIA BOUTIQUE
More than just 420 friendly if you know what I'm saying. I absolutely love Brittaney and Pablo.
5.) CLOUD NINE
Happens to be the store front across the street from where I got my MMJ card. Legit oldie but goodie.
6.) GRAFFITI SHOP
Lawrence hooks it up! Detox drinks, scales & baggies for days. Chill staff, great location. *On Mill Ave!*
7.) HIPPIE GYPSY
I was going to say Traders for their 196 perc bong, that I STILL DREAM OF OWNING, but I've had much better experiences here & purchased the most stylish"water pipe" I've seen from there. [R.I.P. T. CHONG, he got smashed by a jealous ho.]
8.) HERB'n'LEGEND
They don't advertise, they rely on word of mouth to cut down on prices. Also patrons voted them Best in the West Valley this year, in the Phoenix °New Times.
9.) PLANET ZONG
This is THE ONE that you have to stop in & smell the roseBUDS. If you're looking for everything in one place, go here! I always did when I needed throwaway pipes. They have them as low as $1.
10.) NANA'S
This has been a "best kept secret" of mine since High School. I don't live in that area anymore or I would still shop there because the foreign family that runs it always hooked me up. Everything you need from Nice Hookah sets like the one I gifted my brother-in-law with, complete & only $50 to Really custom-looking bowls with KMK & SRH logos on them. Cool ish… Stay Safe & Blaze On! P.S. Happy Labor Day _Bone$
Writing By: Jakob Dodd
Holy Grail of Head Shops