Gingerbread Stoner Cookies; Stoner Cookbook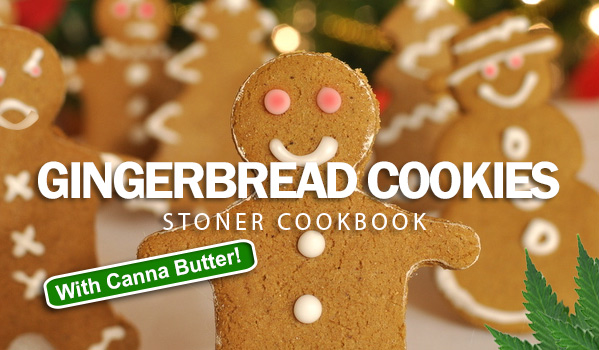 Whip up these holiday treats and be sure to decorate with red frosted eyes! 
Estimated Time: 45 minutes
Serves: Makes 16 5″ Gingerbread Stoner Dudes
Ingredients:
3 1/4 cups sifted all-purpose flour
3/4 teaspoon baking soda
3/4 cup (1 1/2 sticks) unsalted cannabis butter (room temperature)
1/2 cup dark-brown sugar, packed
1 Tbsp ground ginger
1 Tbsp ground cinnamon
1/2 teaspoons ground cloves
1/2 teaspoon ground nutmeg
1/2 teaspoon salt
1 large egg
1/2 cup molasses
Instructions:
1. In a large bowl, sift together flour, baking soda, and spices.
2. Using an electric mixer cream the butter and add sugar and beat until fluffy. Mix in eggs and molasses. Gradually add the flour mixture. Divide dough into three equal portions and wrap each plastic. Chill for at least 1 hour or overnight. Before rolling, let sit at room temperature for 5-10 minutes.
3. Heat oven to 350°.
4. Place a portion of dough on a piece of lightly floured parchment paper. Roll dough 1/8 inch thick. Refrigerate again for 5-10 minutes to make it easier to cut out the cookies. Use either a cookie cutter or place a stencil over the dough and use a knife to cut into little gingerbread men.
5. Move to ungreased baking sheets. Bake until crisp but not darkened, 8 to 10 minutes. Let sit a few minutes and then move cookies to a wire rack to cool completely.
Gingerbread Stoner Cookies; Stoner Cookbook