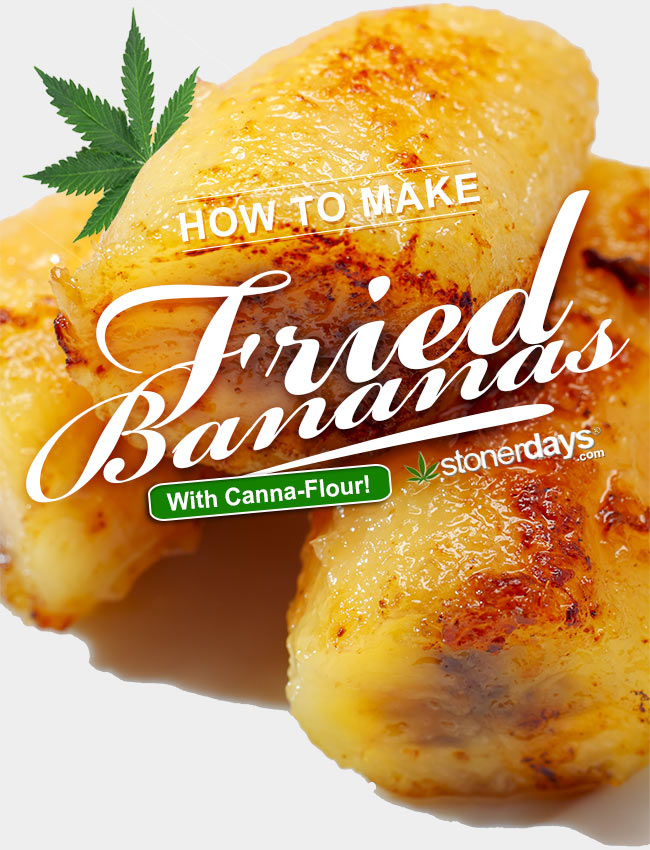 This delicious Tokyo style dessert snack puts bananas in a league all their own and is sweet in all the right ways. With the added canna-flour, these fried bananas would workd great for medicinal patients who'd like to releive pain and eat good at the same time. It's pretty simple to prepare and might just have you hooked eating your high fried banana style.


2-6 Bananas
1 to 2 Cups of store bought Waffle or pancake mix
1 cup of canna-flour
1/2 Cup of milk or 1 1/3 cups of milk
1 ½  Cups of vegetable oil
½ Teaspoon of ground cinnamon
1 Teaspoon of sugar
Depending on the amount of bananas you'll be making will determine the amount of batter you'll need.

 Slice each banana in half horizontaly and then again vertically. In a mixing bowl stir together waffle/pancake mix, canna-flour, cinnamon, and sugar. If using only 1 cup of waffle mix then use a 1/2 cup of milk, or if using 2 cups use 1 1/3 cup measure of milk. Mix well.

 Next, fill a large pan with the vegetable oil and let that get nice and hot. Remember to be careful when handling hot oi,l it has a tendancy to be mean and pop around when it's hot. You'll know the oil is the right temperature if you put a small drop of batter in, and it starts to sizzle and turn brown, now it's ready to start cooking your special bananas.

 After bananas are battered, place them in the very hot oil and let them sizzle and get yummy until they turn golden brown in color. Leave them to cool on a plate with 2 paper napkins to soak up any excess oil. Once cooled, add a little more pizazz and sprinkle them with sugar and cinnamon. Or if you're in the mood to be really naughty, serve with ice cream and indulge yourself in a banana sweet stone.