DC Comics Stink; Stoner Blog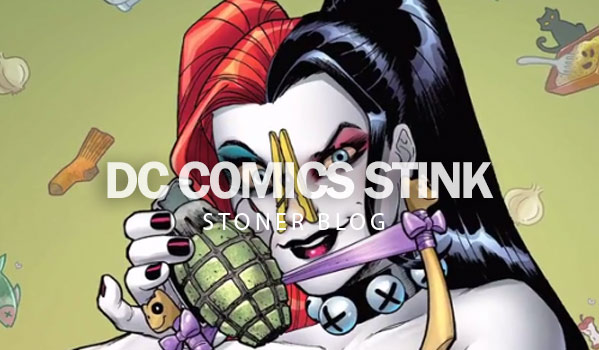 DC Comics stinks! Or at least, the publisher will embracing a sense beyond touch and sight when it releases "Harley Quinn Annual #1," a "scenticular" comic that features four mystery "rub and smell" scents.
Or at least, they have been a mystery… Until now!
The four scents in the issue are leather, suntan lotion, pizza and a mystery compound that… Well… We'll let co-writers Jimmy Palmiotti and Amanda Conner try to explain.
"How do we say mysterious on this without giving it away?" Palmiotti told MTV News over the phone. "Yeah, the scent that is available in the U.S. version is easier to get than it is elsewhere."
Well, Jimmy, there's lots of things that are easier to get in the United States, right? So what scent could possibly be so bad that it had to be changed to "fresh-cut lawn clippings" in the international version?
"Here is what I'm wondering, how often do the Grateful Dead play internationally?" Conner added, making it abundantly clear what she was talking about. "That's what I'm wondering."
"This is definitely a book that you will get you going back to in your box of comics," Palmiotti said driving the point home, "and you might be taking it out now and again to smell it again. You might want to bag it, you know?"
"…To keep the smell contained," Conner continued despite us totally getting it, "and then when you do, bring your thing of oreos."
"If you have a cat, you don't want to keep it near a cat," Palmiotti said despite us definitely getting it.
Let's just say we use this comic for medicinal purposes, and leave it at that?
Potential illegal smells aside, how does one build a comic around scratching and sniffing? The issue finds The Joker's ex-girlfriend, who now lives in and manages an apartment building in Coney Island, heading back to Gotham City's Arkham Asylum to rescue her friend Poison Ivy. While there, something happens that causes Harley and Ivy to go on four mini, smell-related adventured.
"We got a limited list," Palmiotti said, describing the process of vetting the scents for the book. "They sent us these cards that had the scent on it. We wanted to make sure they matched, so we narrowed it down to a bunch. Then when we started actually plotting out the story, it came down to what would work with the book, and what we could get away with as usual with Harley Quinn."
Those things Palmiotti and Conner get away with as usual, for those not familiar with the monthly version of the book, is a fair amount of tweaking of DC Comics' tropes and settings sent through the lens of actually pushing Harley's anti-hero character forward.
"She started out as a villain, [but] she's not a villain in her own eyes," Conner noted. "She thinks she's a hero and that's how she plays out her life… Even though she just leaves mass destruction in her wake."
The combination of humor and actual character work has fast won over fans and critics, though Conner and Palmiotti's run on the title has yet to win any awards. All that could change with the Annual, though.
We suggested that the duo would have the (made up) "scratch and sniff" category of the prestigious Eisner Awards locked down, to which Palmiotti quipped, "Finally, we're going to get nominated for an Eisner in a brand new category."
But true to self-deprecating form, the writer also figured out how they'd lose.
"You know what will happen?" Palmiotti continued. "Some independent book will come out right before it, and they'll have just one smell… And it'll smell like, I don't know, like 'misery'… And then we'll get beaten at the Eisners once again."
Fingers crossed Art Spiegelman doesn't release the scratch and sniff version of "Maus" this year. Too much?
"Harley Quinn Annual #1″ hits stores in a domestic and international version on October 29, from DC Comics. Official info below:
Harley Quinn Annual #1
Rated T+
Art By:
John Timms pencils/inks, Paul Mounts colors.
Stjepan Sejic pencils/inks/colors.
Joe Quinones pencils/inks/colors.
Ben Caldwell pencils/inks, Rico Renzi colors.
Kelley Jones pencils/inks, Michelle Madsen colors.
article by: Alex Zalben http://www.mtv.com/news/1936962/harley-quinn-scratch-n-sniff-interview/
DC Comics Stink; Stoner Blog