Apple's Just Say No Policy, MassRoots App Restrictions?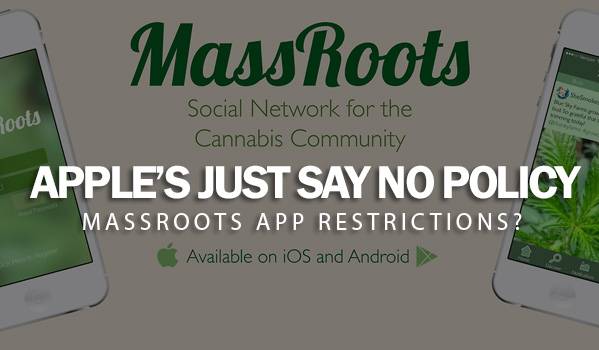 On the same November day that saw more than 1 million people in Oregon, Alaska and Washington, D.C., vote to legalize recreational marijuana, a popular social media app rooted in the cannabis space was removed from Apple's massive commercial marketplace known as the App Store.
"The App Store is one of the largest content distribution channels in the world, and we'd already been on there for 14 months," said Isaac Dietrich, CEO of Denver-based social media outfit MassRoots. "After we were taken down from the App Store, I called Apple back on election day and the guy said they had amended the App Store policy on cannabis social apps.
"I told him, 'You do know that Oregon, Alaska and D.C. are about to push legalization through.' He said the executives in the App Store said this content isn't the kind of content they want to see in the App Store."
Apple told The Denver Post its policies on marijuana apps have not changed. Its legal guideline 22.1says, "Apps must comply with all legal requirements in any location where they are made available to users."
The typically private Apple would not comment on individual companies' complaints.
But Dietrich says something must have changed within the corporation recently. And his complaint against Apple isn't the only one from the marijuana tech space.
While cannabis legalization continues to push forward in the U.S., there are countless roadblocks still awaiting the legal pot industry — especially given the plant's precarious relationship with federal law, which still lists marijuana as aSchedule I drug.
The App Store's strict restrictions could make the marketplace cannabis' most heated tech battleground. After MassRoots' petition to Apple secured more than 10,000 signatures in two weeks, several other pot-related businesses are starting to gripe publicly about their negative experiences with Apple.
Casey Eastman, a developer with Denver-based Weedmaps, said: "I'd be surprised if I'm not pushing 20 rejections (from Apple) in the last couple of years. And that's my professional record. But I guess failure is part of experience."
Michael Pycher is the co-founder of Los Angeles outfit Nestdrop: "It's been beyond frustrating dealing with Apple," he said. "They don't seem to have a pulse on what a lot of consumers want. And they're not privy to listen."
Zach Marburger, the CEO of Colorado-based development firm CannaBuild, said: "The issues with Apple have been all people are talking about in the last two weeks in the marijuana tech underground. If enough people cry foul, Apple will listen."
Samuel Miller is the co-CEO at New York start-up Hempdex: "We'd already invested close to $5,000-$10,000 on our (Apple) iOS app before we realized others were getting turned away by Apple. We halted development to make sure that the app has legs before investing in full development. We don't want to invest another $10,000 just to get rejected at the end."
New developments
Among developers' complaints: An app or update is rejected without explanation; Apple doesn't like certain words or feature sets, but they don't always say which ones. Developers are forced to operate in the dark, poking and prodding blindly, they say, wasting time and money because the moderators of the App Store — which offers 1.4 million apps in 155 countries — won't explicitly say what's OK and what's not.
"We have 300,000-plus users on our iOS platform," said Eastman, whose employer Weedmaps directs users to legal pot shops and dispensaries. "We're leaning on Apple, and we need that out there. Apple is going to find what works for them legally so they're not worried about repercussions from the government, but I wish they'd communicate that: 'Hey, we're worried about this, so we can't allow you to do this.' Instead you submit it, and they say, 'No, that won't fly.' You say, 'What about if we do this?' They say, 'We look forward to reviewing your app.' "
And the app review process takes more time, often another week or two.
A spot in the App Store is essential for most successful companies. In 2014 the App Store saw its billings grow by 50 percent when its apps generated more than $10 billion in revenue for developers, Apple said.
Eastman estimates that at least 30 percent of Weedmaps' overall traffic comes via its iOS app — a product that has taken hundreds of hours to meet Apple's guidelines. Some of the items Apple won't allow Weedmaps to include in its iOS app: pot menu prices, reviews, coupons, any mention of the words "recreational," "retail," "adult use" or "21-plus," and even its 4:20 alarm, Eastman said.
And what about the Android-servicing Google Play?
"We haven't had much of any resistance on Google Play and publishing for Android devices," said Eastman, adding that recreational pot shops in Colorado and Washington are listed on Weedmaps' Android app, but not on its Apple app. "If we wanted to put an (Android) update out today, we could do it with no resistance."
CannaBuild's Marburger has had the same experience, "We have an app that is a marijuana cooking calculator," he said. " Android approved it in five minutes, and Apple denied it in 10 days."
Nestdrop delivers beer and alcohol to doorsteps in multiple states, but the company's two-week adventure in delivering medical marijuana in southern California was cut short when the App Store told them to remove that functionality.
"We are working within the confines of the law for every city that we're in," said Nestdrop's Pycher, pointing to Apple's legal guideline 22.1. "If you can't deliver past a certain hour, we don't. If you have to show ID, we do. We expect all eyes to be watching us, so we have to comply with the law. It's not regular e-commerce. It's Apple's market, and they don't know what their stance is on it."
At Hempdex, which aims to be a LinkedIn for the legal pot industry, they're sitting tight with a half-developed app.
"We've reached out to Apple but haven't heard back," said Hempdex's Miller. "If they give us the green light we'll continue. But the way things are going we fully expect a red light."
A technical advance
Back at MassRoots' Denver headquarters, Dietrich and his team are stressed. Of the 230,000 users on their Instagram-like interface, 120,000 had downloaded its now-pulled Apple app. Whereas MassRoots was averaging 700 new sign-ups per day before the iOS issues, the company is now averaging only 400 — hardly the kind of trending a startup hopes for.
"We have great investors and a war chest to work with," said Dietrich. "But Apple is censoring the cannabis movement right now, and it's slowing down innovation in the cannabis industry to a greater extent than the federal government. I can't believe that (Apple CEO) Tim Cook is letting this happen."
MassRoots hosted the Marijuana Tech Startup Competition in September 2014 in Denver, and "almost every single app that came out of that weekend has been rejected by Apple," said Dietrich.
But it's not all bad news. When Marburger was first interviewed for this piece a few weeks ago, he was awaiting word back from Apple on his Whaxy app, which acts as an OpenTable for pot shops and allows users to skip lines inside dispensaries.
A week later, Marburger heard back from Apple. Whaxy was approved. But the CannaBuild team chose to fix a bug and resubmit it to Apple for approval.
"I just assume every submission will get rejected until they do otherwise, even if prior ones have gotten approved," Marburger said. "With Apple, we hope for the best but prepare for the worst."
This story was first published on DenverPost.com
By Ricardo Baca, The Cannabist Staff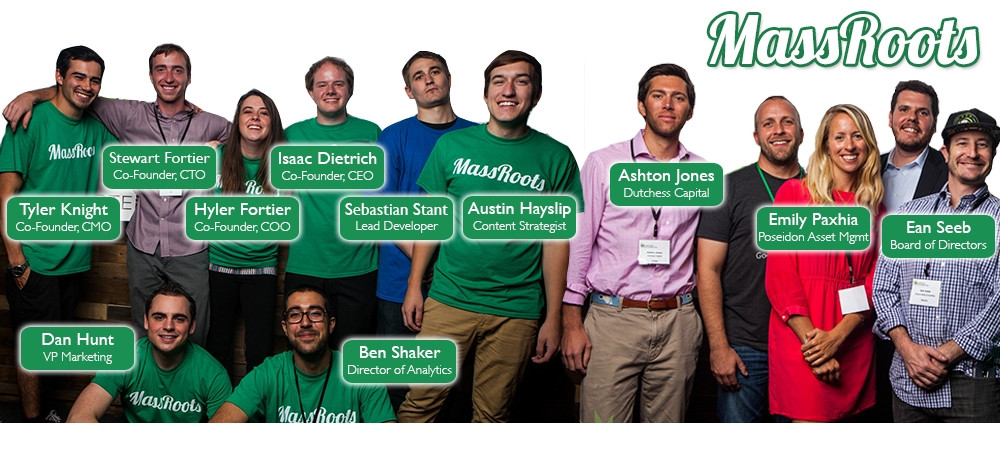 Apple's Just Say No Policy, MassRoots App Restrictions?