Adriel Restrepo – Featured Marijuana Artist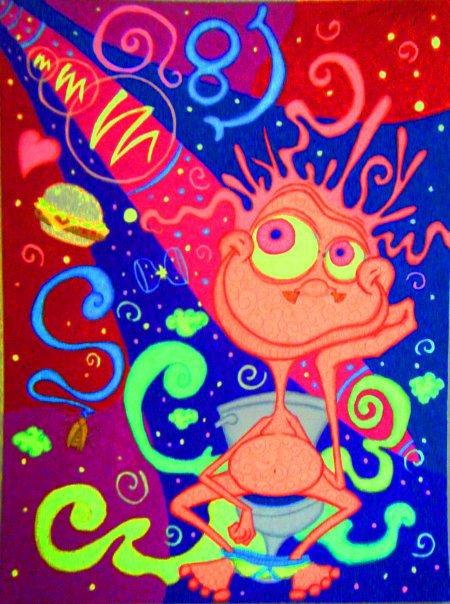 My name is Adriel Restrepo and I am self taught learning UV glow in the dark blacklight art through repetition trial and error for the past five years. Except I don't see it as errors more like learning steps necessary to move forward. All my life I loved drawing monsters and watched every cartoon, movie, making of movies I could find with the dream of creating my own animated world and movies! I have also studied computer animation where I meet some awesome creative people and learned a lot about art and animation and also love to sculpt with clay.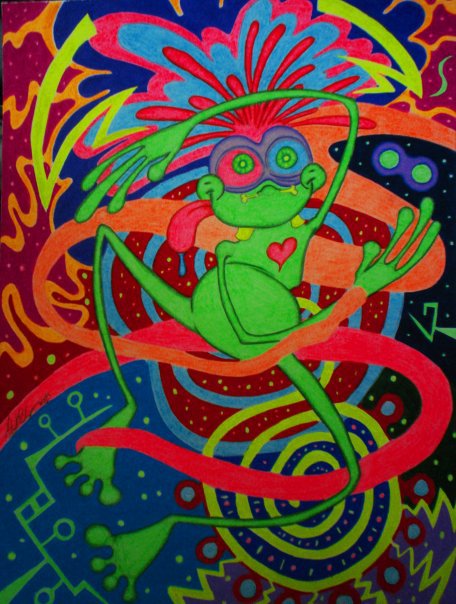 As a kid I used to create stopmotion animations with my clay characters and toys for my family and friends to watch who have always been very supportive and encouraging of my art. Currently I just run my art page on Facebook and I'm working on many projects, one that I'm proud of is a short 3d animated film called the Path of Balance where I helped design, storyboard, and digitally create the main human character and animation movement. PathOfBalance is an awesome project I suggest you check it out. I prefer cannabis as its a great creative enhancer with the occasional shroom trip for an avalanche of ideas and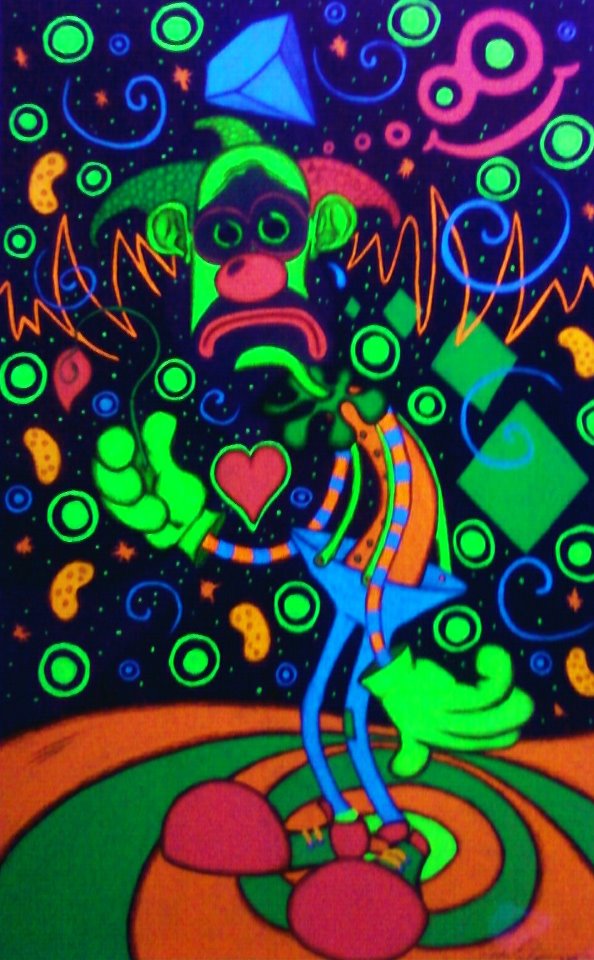 connections made not possible sober. Everything is psychedelic the fact that we are communicating through light beams moving patterns pixels and symbols from across this giant round planet orbiting a giant ball of fire orbiting a giant massive black hole orbiting even more giant black holes is psychedelic in of itself. I always loved glow in the dark things since a kid. Kids are naturally unsober and what natural psychedelic substances can do for an adult is waken the inner child since growing old in this world can really make you forget what is really important. My art is purely from my own personal life experiences which I am expressing. My first inspiration manifested while getting stoned alone for the first time sitting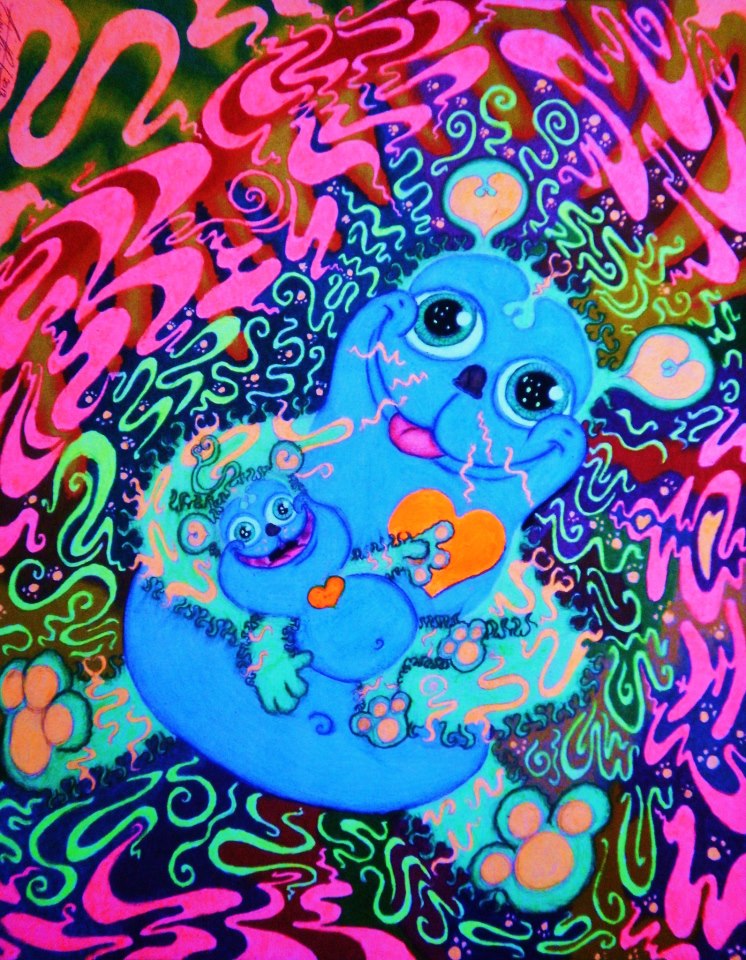 on my couch and as I was drawing I noticed some of my color pencils were glowing under the black light and after that its been a spiral of artworks branching into many ideas I probably would not have if I did not smoke. Check out my link at the bottom of the page to my first artwork called Floatn N Smoken! This is what started my line of psychedelic art. Psychedelics has really opened my mind to myself as well as the world around me and all the infinite amount of inspirations in every bit of space holds. It got me really into the science of everything. I try to fill my head with any scientific discoveries being made while always being skeptical of any info that passes through my mind yet giving ideas the chance to learn taking the bits that will benefit me and discarding the junk. Documentaries are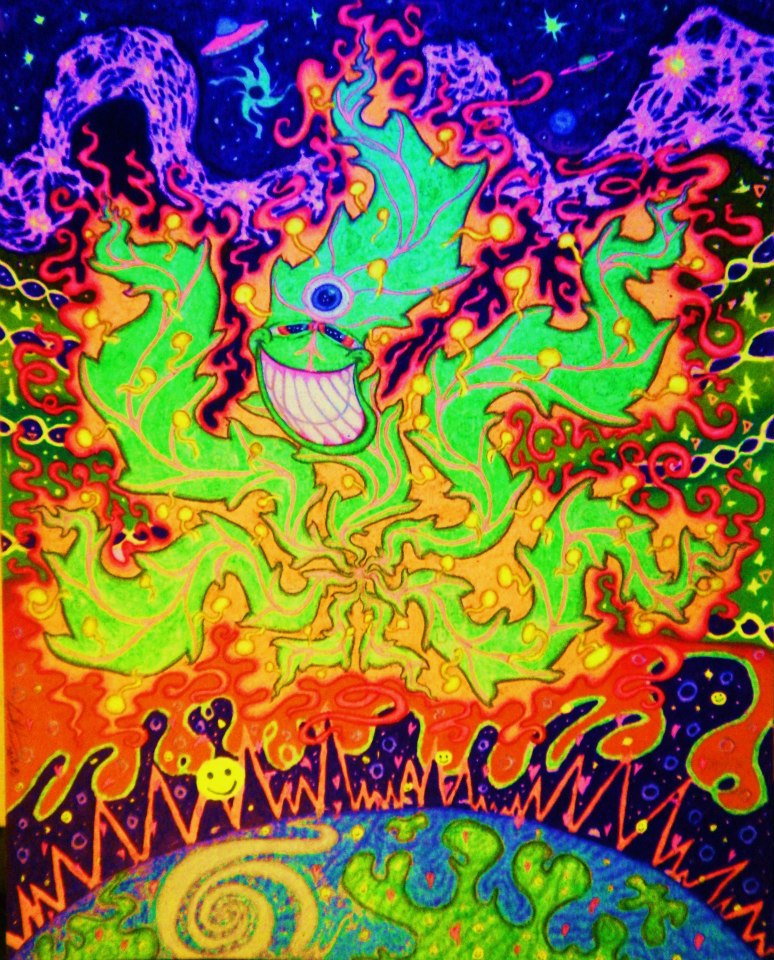 awesome for inspiration and nature being observant of all the many layers of life and all its different yet repeating patterns. I love painting with head phones on music is an awesome tool for art making. Sometimes I paint with no music when my mind wants quite time. Or I put anything that will help inspire me on the t.v in the back ground. Everything and anything inspires me cartoons, movies, thoughts, dreams, science, nature, animals, family, FRACTALS, CYMATICS, patterns, woman, video games, reading stories, art history and anything that makes me feel good. Lucid dreaming is awesome for planning out art. I literally plan some of my art in my dreams as you have the freedom to do and see what you want instantly.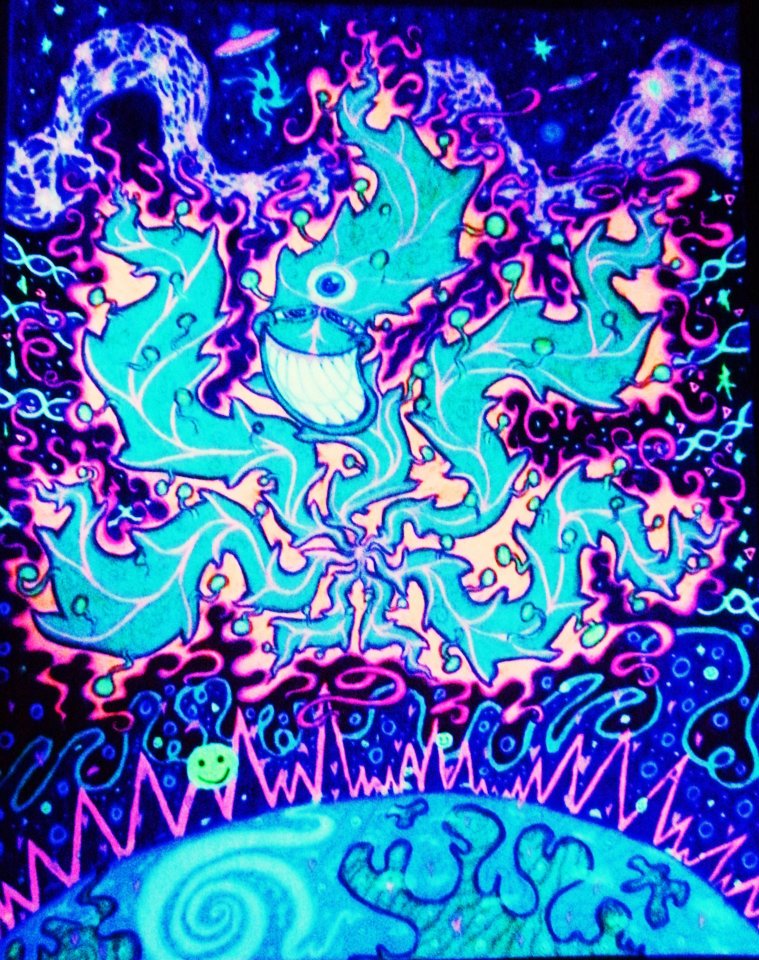 I'm a big fan of art, psychedelic, monsters, animation so I decided to roll it all into one big joint together so that I am doing something I enjoy while still making a living and helping my family any way I can. I was born in the creative streets of Yonkers New York January 16 1987 an awesome year to be born! Lived in New York with my family until I was 8 years old I moved to Miami Florida with my mom, older brother and twin sister. My grandmother who was the strongest multi talented woman I have ever known has been a huge influence in guiding my creativity all my life. I was super close and loved my grandma so much it was a huge disappointment when she passed and my life sort of went  detouring wrong paths of stupid drunkenness and alcohol with a little sauce of negative thoughts but one thing that stayed the same was my passion to always draw.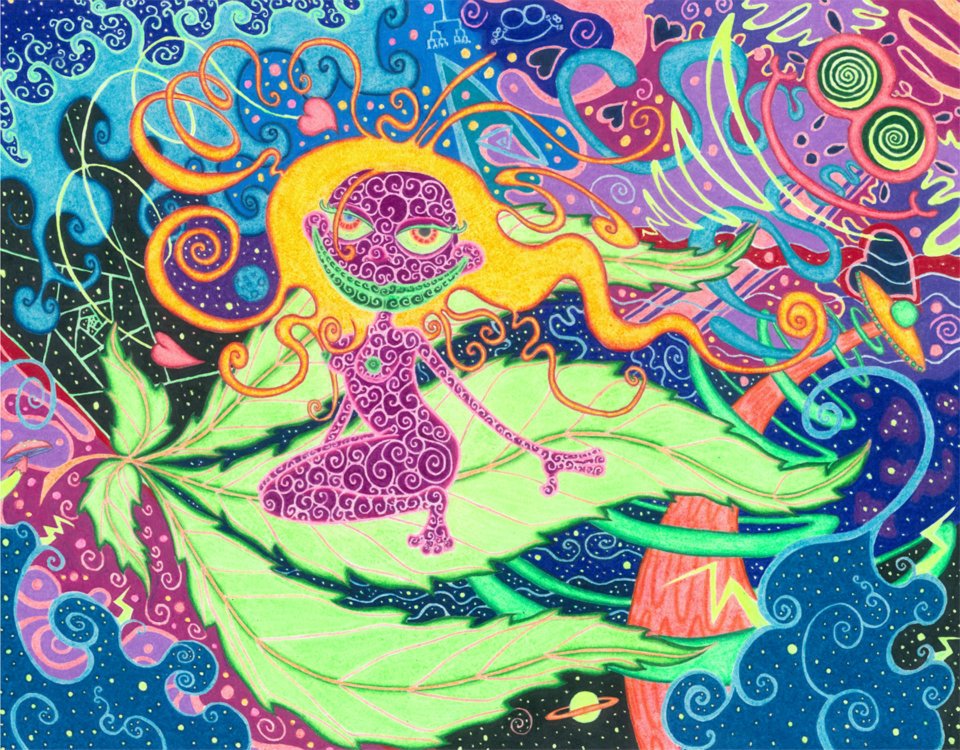 I sort of was suffering with depression until around 2008 when I discovered Mary Jane and later discovered shrooms and its amazing powers to heal and make you think in better positive ways giving me the power and better control of my own life.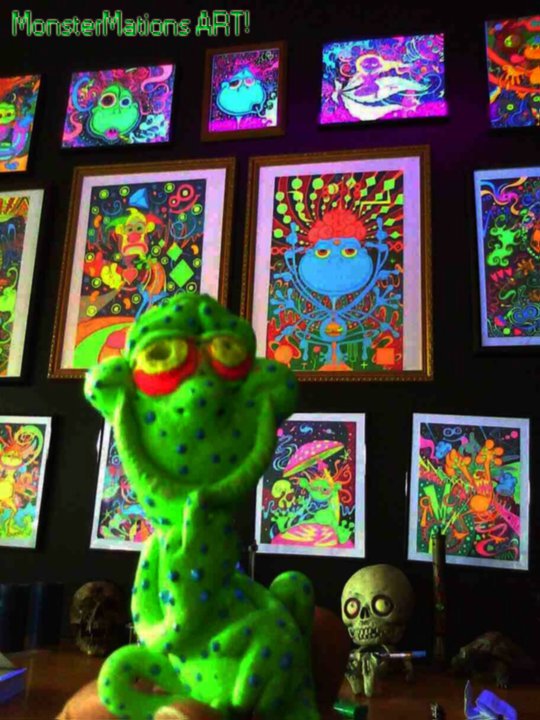 Turns out its not really depression it was just a wack way of thinking that grew in my head like a virus until I found the natural magic plants that cleaned those thoughts away being overshadowed by overwhelming happiness and appreciation for life and loved ones around me. I have so many favorite artist its hard to narrow down. There are so many different art forms too from joint rolling a cross joint to making movies, music, cooking and I even consider stand up comedy and fighting as awesome art forms. If I had to name drop the artist who has been great influence the past years I have to say my music buddy for life Kid Cudi.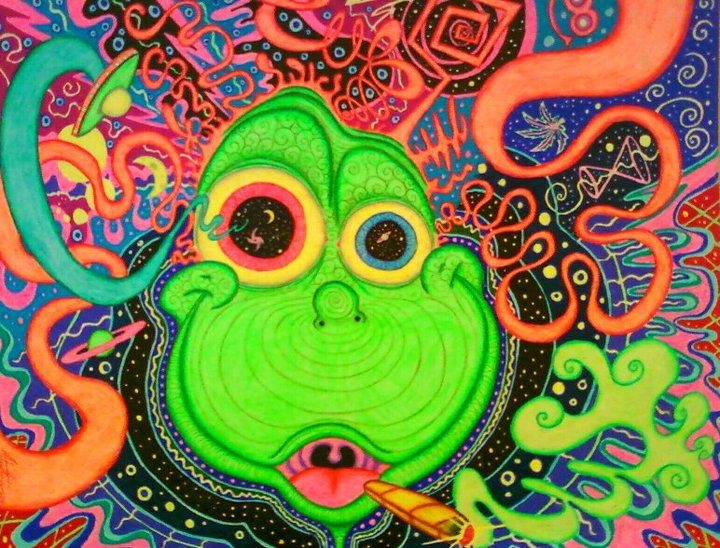 Never felt such a strong connection to music ever since and his variety of different sounds really opens my mind to many other kinds of music. Tim Burton and his amazing stop motions. thc420 if you haven't heard his music i suggest you look him up! Highly underrated music artist that more stoners would love to hear but don't even know this guy exist and he makes awesome fun music!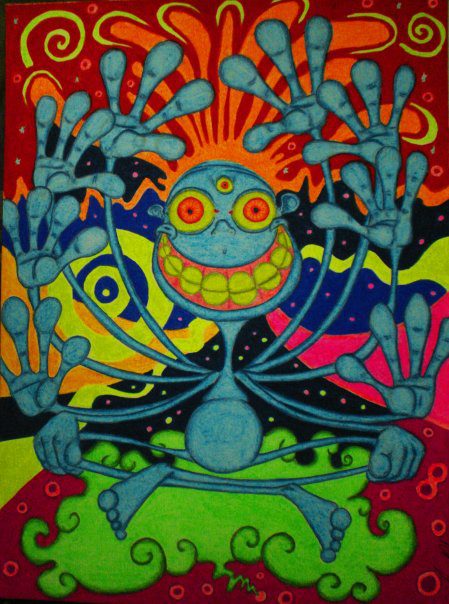 Some more undiscovered artist that inspire me names are Thomas L Conger, Fernando Toonz Juarez, Jaquelyn Braxton, and NaajArt! Alex Grey is a master artist!!! Joe Rogan and Joey Diaz are my favorite pot head comedians who have literally changed my life for the better listening to their super funny podcast always learning knew things from the greats! I like all and every type of weed!!! I like to smoke joints, blunts, pipes, bongs edibles basically any way you can stick that THC in my brain I try. What ever gets me high at the time is my favorite. My favorite weed is some good fruity sativa really gets my brain charged with the boost of energy perfect for staying awake drawing the day away.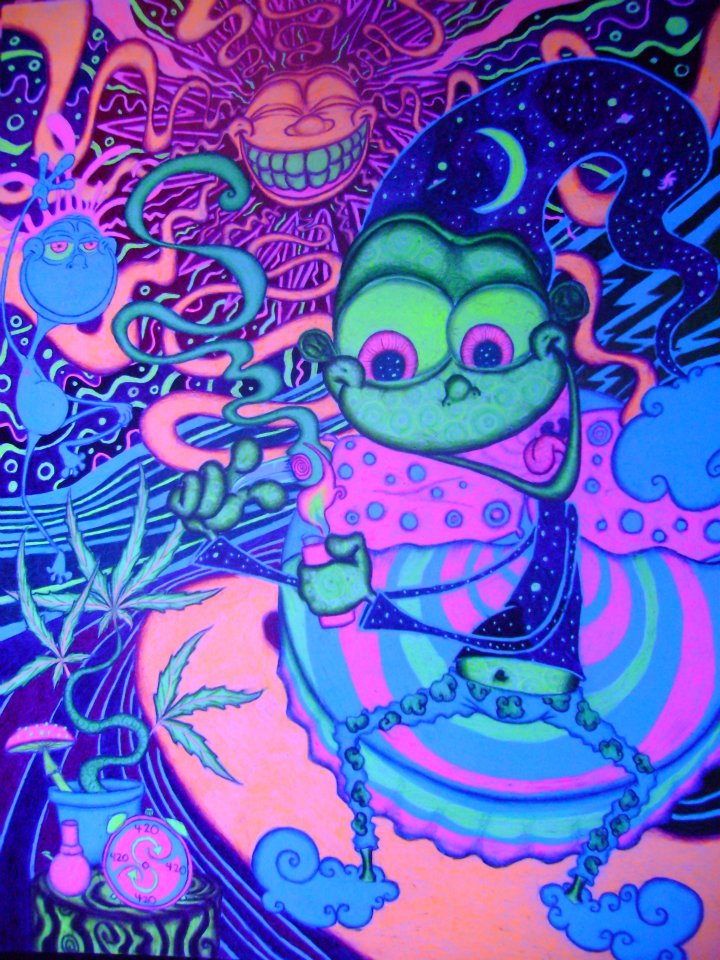 Don't get me wrong Indica I have a lot of love for too perfect for unwinding listening to music and meditate on visuals happening inside my brain! My favorite is when I get to try different flavors and weed in one session the combination of smoking many strains at one sitting can get you super high!! hahaha Love cannabis forever! 8)
Check more of Adriel Restrepo our Featured Marijuana Inspired Artist at: facebook.com/MonsterMationsPsychedelicArt
Floatn N Smoken Link @ https://www.facebook.com/photo.php?fbid=165229246864474&set=a.165229090197823.58045.165228913531174&type=3&theater
StonerDays has those stoner shirt you've been searching for. Go check out our stoner store @ cafepress.com/stonerdays.
We love our fans and want to know what you stoners are up to, send us your Stoney Submissions for a chance to be featured on the #1 marijuana site in the world StonerDays!!Enjoy!
Adriel Restrepo – Featured Marijuana Artist