Top 10 most popular Autoflowering Marijuana Strains 2015
As the name suggests, autoflowering cannabis plants automatically produce blooms without the need to regulate light levels to trigger bud production. This feature alone makes them ideal for a wide variety of growing environments.
On top of this, they also possess a rapid growth rate that makes them adaptable to cooler climates and provides early crop harvesting. In fact, this type of cannabis will often complete its cycle in slightly over three months at the most. Also, since they're not dependent on fluctuating light levels, they can handle outdoor urban and suburban settings. Not all autoflowering strains of cannabis are created equal, though, so here's some examples of the best in this category.
Autoflowering seeds are a type of cannabis seed that produces plants that flower automatically without needing a change in light cycles. Unlike regular cannabis seeds that require specific light cycles to induce flowering, autoflowering seeds will start to flower after a specific time, regardless of the light schedule.
This is because autoflowering seeds contain genetics from the cannabis subspecies Ruderalis, which is known for its ability to flower based on age rather than light exposure. This genetic trait has been selectively bred with other cannabis subspecies to create strains that flower automatically.
Autoflowering cannabis plants tend to be smaller in size and have shorter lifecycles compared to regular cannabis plants, which makes them popular among growers who want a quick and easy harvest. They also tend to be more resistant to pests and diseases than regular cannabis plants, making them a good option for novice growers. If you become interested in autoflowering seeds, you should check https://askgrowers.com/seeds/autoflower to find different types of Autoflower Seeds.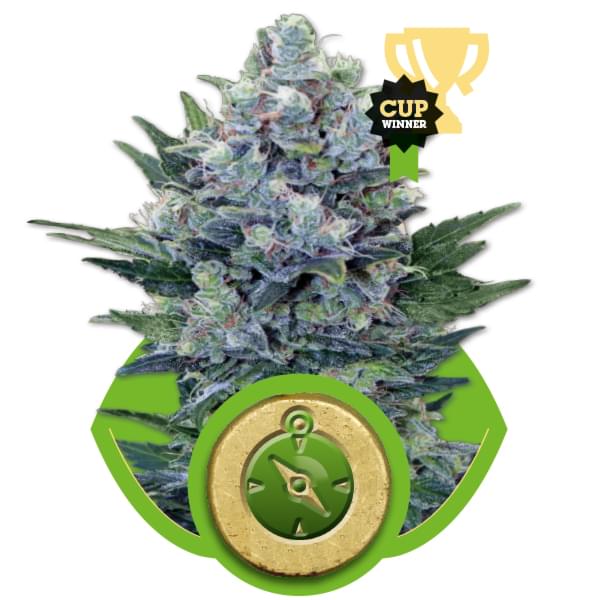 Northern Light Automatic
A favorite for medical marijuana, Northern Light is a mix of primarily indica cannabis with some sativa added. As such, the strain is particularly abundant in cannabidiol or CBD. This is the drug usually responsible for producing the couch-locked or relaxed effect associated with many types of marijuana. Northern Light is great for pain relief and insomnia but also for anxiety or just as a way to relieve the tension from a rough day at work. While being a bit tall for an indica-derived variety, it generates a plethora of sweet-tasting buds in only two-and-a-half months.
Northern Light is one of the best-known strains of cannabis in the world. It's a mostly Indica strain bred in the 1970s in the USA from Afghani genetics. In the 1980s, the plant came to Holland. It soon become the standard for indoor growing. Over the last few years, there have been many changes in growing and breeding techniques. Our Northern Light Automatic is a perfect mix of new and old.
Now this strain is both autoflowering and feminized. Northern Light Automatic is great for growing indoors but can also been grown outdoors in most climates. The plant starts growing and producing flowers almost immediately, and is ready for harvest in only 9 to 10 weeks from planting the seeds.
Northern Light Automatic gives a generous harvest and might be one of the highest-yielding autoflowering strains available. Growing to a height of around 90-120 cm, it is quite a large plant for an autoflowering variety, but this is matched in its yield. Outdoors in Spain some plants have produced upto 200 g, though around 90 g is the average in good conditions indoors.
Much like the original Northern Lights, our Northern Lights Automatic has a nice, sweet taste and a comfortable physical effect. It's the same classic strain, just with an autoflowering twist. Which also makes it a great plant for medical users.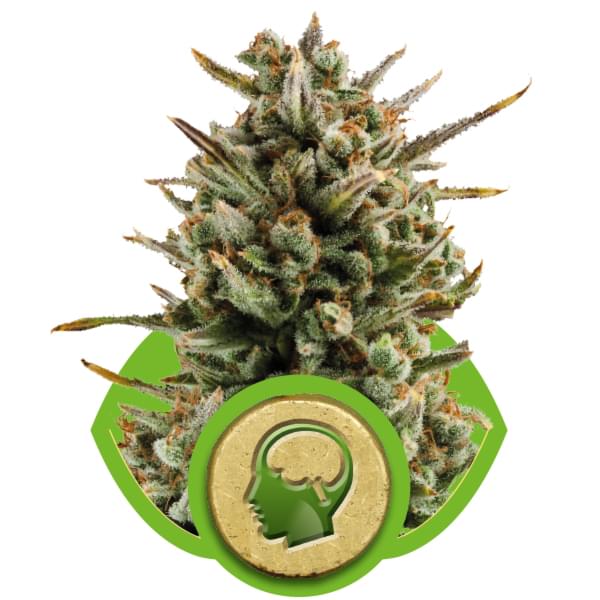 Amnesia Haze Automatic
Spice things up with Amnesia Haze. This strain is descended almost entirely from the sativa family. Sativa marijuana is strong in tetrahydrocannabinol or THC, the drug in marijuana that produces the classic euphoric high. While not as favored for medicinal uses, THC-rich sativa cannabis strains can be used to relieve depression and stimulate appetite. Many people with attention-deficit disorder also claim THC helps them focus their attention. With its sativa ancestry, Amnesia Haze is quite large, reaching up to one-and-a-half meters or five feet. With this size, though, this strain rewards you with anywhere from 40 to 150 grams of spicy-sweet buds in just under three months.
The Amnesia Haze Automatic is the result of many years breeding. A cross of the Amnesia Haze, bred in The Netherlands in the 1990's by Hy-Pro Seeds. The original Amnesia, aka Amnesia Haze, Champagne Haze, The Bomb, Ultra Haze and many others names is classic Sativa strain, popular everywhere.
The biggest downside of Sativa strains like Amnesia is that it can take a while to flower, 12 weeks on average, but some phenotypes can take up 20 weeks. This is simply too long for many growers. She can also grow quite tall; this can be another issue for some growers with limited space.
The Amnesia Haze Autoflomatic aims to solve these problems. Offering the same euphoric high and spicy, sweet taste as the original Amnesia but with a heavily reduced growth time and a much smaller height. This means she can be grown by many growers who before would not be able to grow her.
Indoors she will take around 80 days from seed to bud. In this time she can grow quite large, especially when compared to other autoflowering strains. This is a clear sign of her Sativa dominant genetics – tall plants, large thin leaves and long stretching buds. The Amnesia Haze Automatic is a vigorous plant that can grow to heights of around 80-150cm. This large Sativa dominant autoflowering strains, much like the original Amnesia, gives generous yields of high quality hazey buds. She likes to be fed well, but be careful not to over feed her, as like as Hazes she can be sensitive to nutrients.
After 80 days of growth and flowering you will be left with a good yield, around 40 grams on average and up to 150 grams in ideal conditions. She gives long, fox tail like buds with a sweet, spicy, musky aroma. All in all she has the classic Amnesia aroma, flavour and effect. The Amnesia Haze Automatic is the perfect autoflowering variety for lovers of the Haze.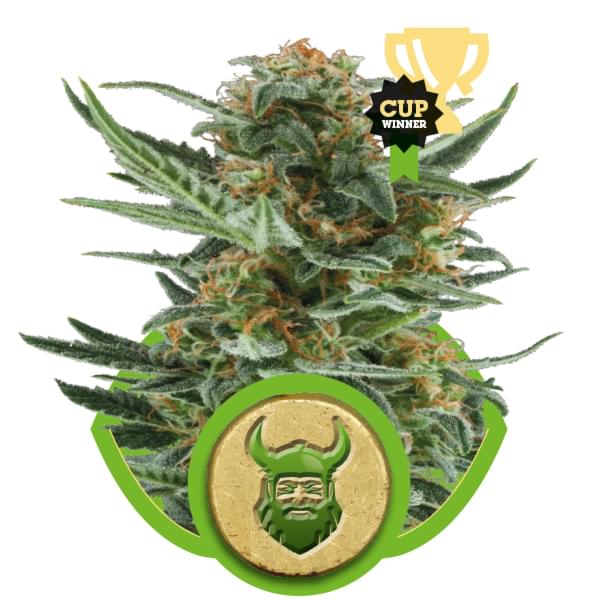 Royal Dwarf
Royal Dwarf provides the best cannabis seeds for anyone with limited space. These plants rarely exceed 60 cm or just under two feet. Don't let this small stature fool you. Royal Dwarf can potentially churn out 60 grams of buds in no more than just over a month. While its form strongly suggests an indica background, this strain contains enough sativa to provide both an energetic high and a tranquil feeling.
With a similar genetic background to our Easy Bud but crossed with Skunk to create a new autoflowering feminized variety. We call this bonsai-like autoflowering variety Royal Dwarf.
Royal Dwarf is a very compact plant. This compact structure, along with its tight buds, make it ideal for growing indoors or outdoors in reduced spaces. It is a mix of some of our best autoflowering strains crossed with an exceptional skunk female, which was then was crossed back to the autoflowering parent to retain its amazing autoflowering ability.
The skunk has given it a different flavour and slightly larger yield than other autoflowering varieties. This compact plant can produce up to 60 g a plant. Like most Skunk hybrids, Royal Dwarf has a very strong aroma and hard resin-covered buds.
Small and mighty, Royal Dwarf grows quickly, reaching an average height of 40 to 60 cm. Ready for harvest in just 8 to 9 weeks. The effect is much like a good old Skunk variety. It gives a mild social high and relaxing body stone. Small and easy to grow, this plant is great for any grower wanting to try out a different autoflowering variety.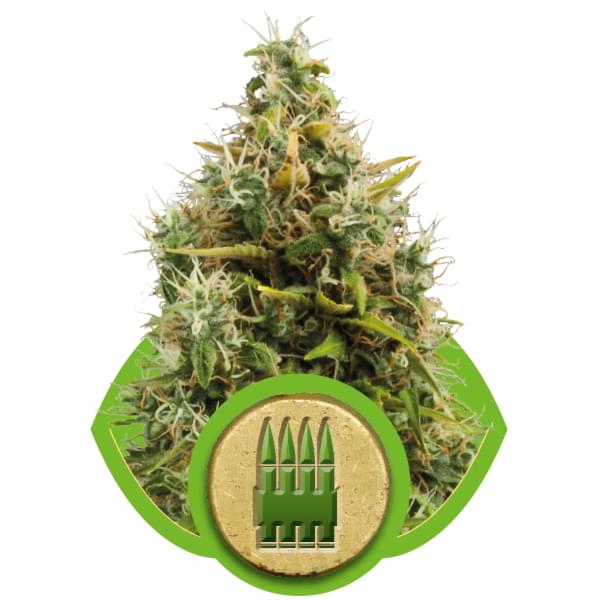 Royal AK Automatic
Despite a mainly sativa background, Royal AK Automatic is actually fairly compact at just one meter or nearly 40 inches, making it among the best cannabis strains for anyone looking for euphoria. From start to finish, Royal AK can sometimes generate 160 grams of blossoms within two-and-a-half months. This strain gives both a sweet flavor and a creative rush that's tempered by a bit of mellow relaxation.
Originally a hybrid of Columbian, Mexican, Thai and Afghani, AK47 is classic strain of cannabis. This mostly Sativa strain is known and loved by many for its heavy-hitting effects and good yields. The many awards the strain has won over the years goes to show this.
Now this potent strain has been upgraded to a full automatic, the Royal AK Automatic. We crossed the classic AK47 with our best autoflowering genetics. Much like the original, this autoflowering hybrid produces potent resin-covered buds, with a somewhat spicy yet sweet taste. The aroma is almost like musky, sweet incense.
Royal AK Automatic's high is happy and active, giving a nice up high balanced with a gentle body stone. Strong and smooth just like the original. The only real difference is that the Royal AK Automatic is easier to grow and can be harvested in just 9 to 10 weeks after planting the seed.
It will grow to a maximum height of around 80 to 100 cm, this allows Royal AK Automatic to be grown almost anywhere. This potent autoflowering strain gives great yields in the right conditions, producing up to 160 g per plant! Like all of our strains, the Royal AK Automatic seeds are feminized, making them even easier to grow.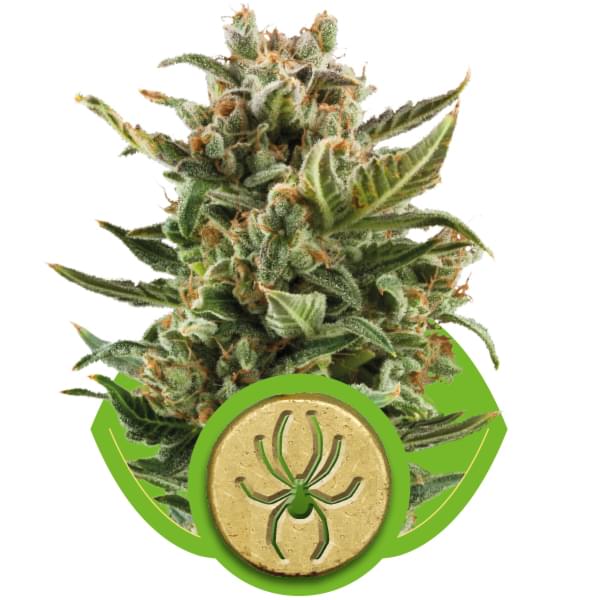 White Widow Automatic
With clear indica dominance, White Widow Automatic provides some of the best weed seeds for medical cannabis. The plants are great for indoor production, yielding a usual height of only half a meter or just over one-and-a-half feet with the occasional plant growing twice this tall. An amazingly productive strain, White Widow Automatic generates 190 to 240 grams of lemony-tasting, pain and anxiety-relieving flowers in just a month and two weeks.
The White Widow Automatic is a new cross of a classic Dutch strain, White Widow, recognised by most smokers and growers as an absolute classic strain. We got our hands on a great clone of the original White Widow variety and crossed it with our finest autoflowering strains.
Like the non-autoflowering original White Widow, this strain has wide, dark green leaves and is dusted with a heavy coating of resin. The White Widow Automatic replicates the original White Widow very closely but only takes around 75 days to grow from seed to bud. The only real difference is the autoflowering growth, smaller size and slightly more physical stoned effect.
The buds, despite their hybrid genetics, have a mainly Indica appearance and effect. The White Widow Automatic has a sweet and sour, citrus-like aroma and taste, similar to but not as strong as White Widow. This strain was bred for a few years to ensure stability in the genetics. Indoors it will grow to an average height of around 50 cm, with some larger plants reaching 100 cm. Its yield is quite good for an autoflowering strain and it will produce around 190 to 240 grams per plant depending on conditions.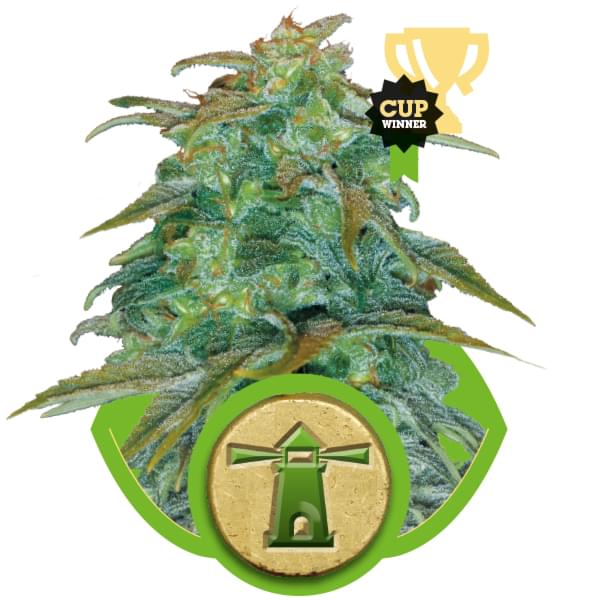 Royal Haze Automatic
Haze has always been a famous line of sativa cannabis plants with the usual drawbacks of being too large and taking too long to grow. Now you can buy cannabis seeds that'll produce a manageable version with all the benefits. Royal Haze Automatic maintains a compact form of no more than one meter or just under three-and-a-half feet and is ready to harvest in just three months at the most. The resulting crop can total 180 grams of THC-laden blooms that will supply a generous number of mind-expanding trips.
If you've ever visited the coffeeshops of Amsterdam, you'll know that the haze varieties are some of the most popular. They have a fresh taste and an uplifting high which everyone loves. The problem is they take a long time to grow and flower. Royal Haze Automatic offers a solution to this problem.
We crossed Amnesia Haze, one of Amsterdam's finest hazes, with a Skunk and then crossed it with our autoflowering varieties. The result is an amazing autoflowering feminized variety which you can grow to harvest in just 10 to 12 weeks.
It will grow to a height of around 60 to 100 cm. This short size and quick flowering means that Royal Haze Automatic can be grown in places where normal haze varieties wouldn't grow. Grown in good conditions, each plant will generally produce around 180 g.
Royal Haze Automatic has all you would want from a haze variety, but without the difficulty of growth and long flowering times. It doesn't taste like a normal autoflowering variety, but just like a regular haze. This is the perfect strain for people who love Haze but want something easier to grow.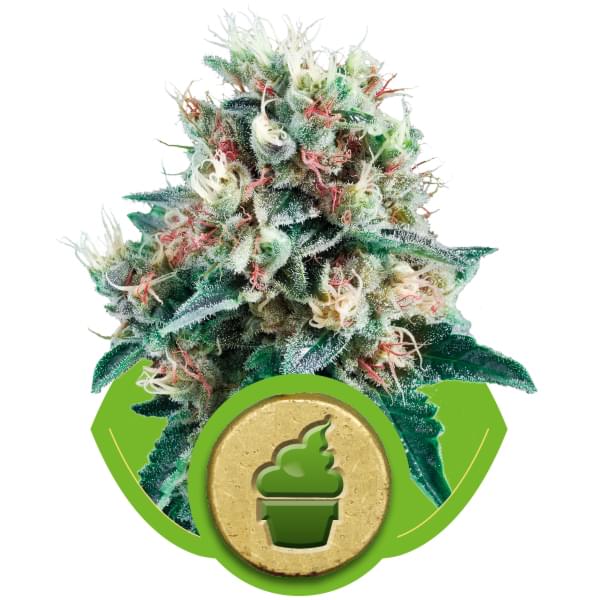 Royal Creamatic
Two months is all it takes to reap the bounty of Royal Creamatic. These compact plants won't exceed one meter or just under three-and-a-half feet and are smothered in buds. In fact, 165 grams of bless is not an unreasonable expectation. The high they produce is a powerful sedating effect that makes them perfect for medicinal needs. As great as their effect is their flavor. This new edition to the Royal Queen seed bank has a unique caramel flavor that makes them worth it alone.
The newest member of the Royal Queen Seeds Autoflowering seed collection. The Royal Creamatic brings a new flavour to the autoflowering family. We took our best autoflowering genetics and crossed them with Cream Caramel, a popular Spanish Indica strain which is a cross of BlueBlack, Maple Leaf Indica and White Rhino.
Known for its intense, sweet caramel flavour and strong physical effects. The result is our Royal Creamatic, a strain that retains the sweet caramel aroma and strong effects but is much quicker and easier to grow.
The Royal Creamatic is a small-to-medium sized autoflowering feminized variety, which means you'll have only bud-producing female plants and no unwanted male plants taking up space.  Generally, it will grow one main big bud and just a few small side branches. This is a powerful plant that flowers quickly, growing to a maximum height of around 70-100 cm. This makes it ideal for smaller indoor gardens where more plants can be placed in the area.
Even though small, The Royal Creamatic can produce from 165 g if treated right. Ready for harvest just 8 weeks after planting the seeds.  This is a top quality autoflowering variety that produces dense, resin-covered buds with a great taste and a heavy, relaxing physical effect .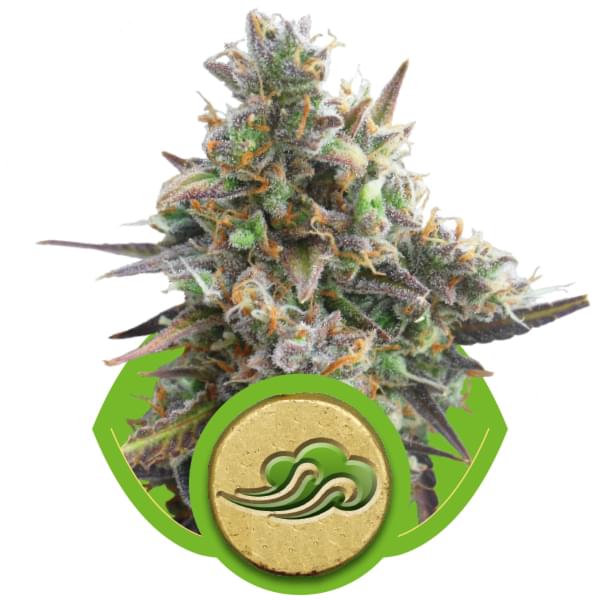 Royal Bluematic
Blueberries were the inspiration behind this strain. Royal Bluematic is a new member of the Royal Queen cannabis seeds bank that exudes a fragrant blueberry taste. After only a week into the third month, Royal Bluematic's buds are relatively few but considerably large, totaling 120 grams. With plenty of CBD, the flowers are perfect for both medical purposes and everyday stress relief.
This is our feminized autoflowering version of the famous Blueberry, known worldwide for its sweet berry flavour and aroma. We already had a great version of this plant in our Blue Mystic but now we have an autoflowering variety to give you even more choice.
We crossed our autoflowering strains with the best genetics from the Blue Family, the classic cross of Thailand races, Thai hybrids and an old school Afghan bred by legendary breeders in California and Oregon. This produced our Royal Bluematic. Thanks to the autoflowering genetics, this plant is now easier to grow and you can harvest just 8 to 9 weeks after planting the seeds.
Royal Bluematic grows to a medium-to-tall height for an autoflowering variety, averaging around 60-75 cm. Like most autoflowering varieties, it will grow very few side branches and dedicates all its energy to producing one large main bud. It will produce on average around 120 g per plant.
Due to its mostly Indica genetics, Royal Bluematic has a smooth, relaxing stoned effect. The flavour is much like our Blue Mystic, a sweet smell and blueberry-like taste. It is an easy plant to grow, with a good taste and effect; the perfect combination.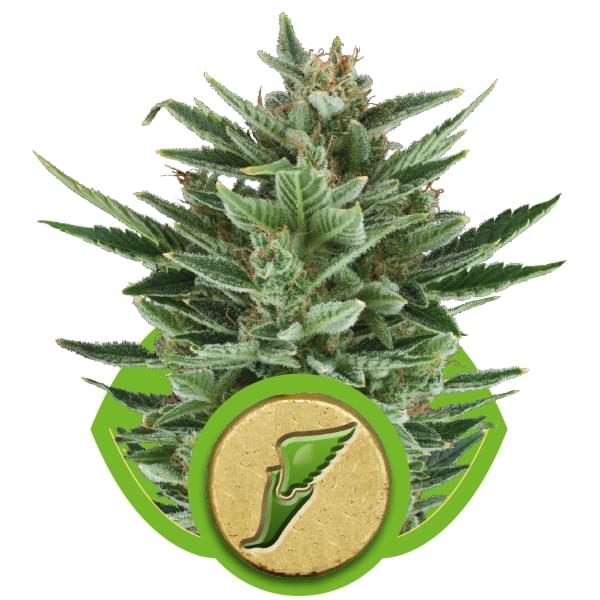 Quick One
This plant strain earned its name by usually only taking two months to give up its treasure. Quick One is both fast and compact. They rarely go past a height of 60 centimeters or two feet. With a mixed ancestry of indica, ruderalis, and some sativa, Quick One has a moderate calming high and a subdued, refreshing relish. In spite of its little size and quick growth, you can count on 150 grams from each plant at harvest time, the result of it being feminized like all other varieties offered by Royal Queen Seeds.
Quick One is a fast-growing autoflowering strain. This was one of the first autoflowering strains developed. When it was first released, it was one of the quickest growing strains on the planet.
Coming from Canadian genetics, Quick One is based on the original autoflowering strain, Lowryder. This strain was created from a cross between Williams Wonder, Northern Lights and Ruderalis. The Ruderalis genetics gave the plant its autoflowering ability, which means it will flower automatically without a change in the light schedule. These genetics have given birth to almost all autoflowering strains available today.
Quick One seeds are all feminized and, when planted, will grow into strong female plants, flower automatically and be ready for harvest in around 8 weeks. Some plants may take up to 9 weeks to be fully mature, but that's still pretty quick. Especially when you consider that some varieties of cannabis can take up to 20 weeks just to flower.
Quick One is a small, compact plant. Generally, it will not grow any taller than 50 to 60 cm. If grown well, it can yield up to 150 g per plant, and some growers have achieved even more. The plants have a fresh, herbal, almost citrus-like aroma. The taste is mild but good, and comes with a pleasant physically stoned effect.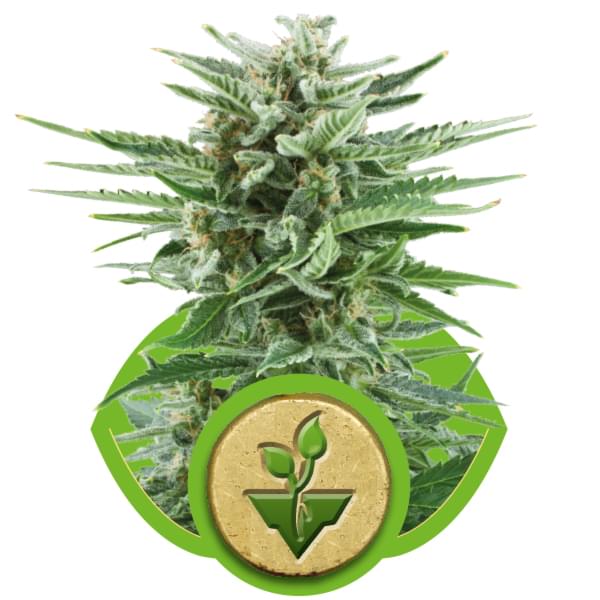 Easy Bud
It's particularly true that anyone with a medical marijuana need probably doesn't want too many hassle with growing it. This is what makes Easy Bud a fantastic choice for both pain sufferers and those just looking for some quality couch-lock time. Not surprisingly, this capability comes from the strain's indica pedigree. After just a couple of months of growing cannabis seeds like these, you can look forward to 165 grams of sweet-tasting pleasure from 60cm or two-foot plants that can fit practically anywhere with minimal effort.
Most of our autoflowering feminized strains are easy to grow. This one, however, is so easy to grow that we had to call it Easy Bud.
Easy Bud is very similar to the autoflowering strain White Dwarf. It is a cross between autoflowering Ruderalis and strong Indica strains. The autoflowering  Ruderalis genetics mean it can grow almost anywhere. And it will flower automatically after just a few weeks. The Indica genetics have given it a stronger smoke and a relaxing physical effect.
Easy Bud will grow and flower from seed in just 8 to 9 weeks. The plants stay small, growing to an average height of 50 to 60 cm. This allows it to be grown in small grow rooms or areas that may not accomodate larger plants.
For such a small, easy-to-grow plant, Easy Bud gives fair yields and, in good conditions, will yield around 165 g per plant. The buds have quite a strong, skunky smell and a sweet taste. This is a great variety for people who just want a nice and easy grow. Whether you are a first-time grower or just looking for something different to grow, it's easy with Easy Bud.
Article from: www.royalqueenseeds.com
Top 10 most popular Autoflowering Marijuana Strains 2015