Here at Stoner Days we love all of the arts and also love to put them on the World Wide Web so that every stoner from everywhere can enjoy while high….your welcome.
Stoner Art is all about expression and which ones move you the most. Marijuana is such a major influence in so many's lives that it makes sense that creative geniuses would want to capture it on canvas.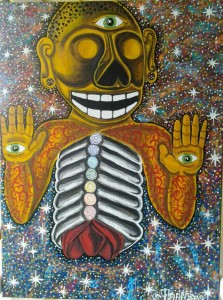 Fernando "TOONZ" Juarez in an artist that lets the influences influence him to greatness.
"The scenes that he depicts seem like a dream wrapped up in a thousand words."
The free flowing curves and colors that he uses shows how he lets the medium hit the paper with ease. He views the world in a way that no other does, and in the art that he displays we get to see a bit of that insight.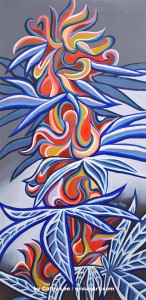 Crazy, zany pictures that bring a smile to your face and a bit of wonder back into your heart. Adriel Restrepo has captured the essence of being blazed and happy in art form. His UV Light creations are beautiful and unique to his personality.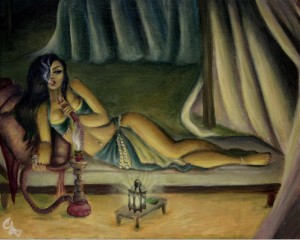 "Faces and swirls that seem to jump right off the canvas and into our high bouncy world."
Smooth, sexy, and seductive, all these words and more come to mind when thinking of artist E. Charlene Schuster.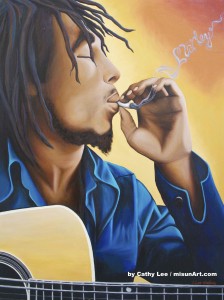 "Her art captures beauty and seduction from another time."
Cleopatra visions and clouds of smoke, seeing a sexy woman with smoke to accompany her torso is always desired and Schuster gets that.
"Perfect center pieces to be hung over the fireplace, or bedroom, it's your world spice it up."
Michael Owens paints pictures filled with intense emotion and meaning.
"You can feel the level of heart he puts on the canvas as he lays emotions bare."
To smoke and to think, to contemplate literally on a higher level is always a good thing. Exercise for the mind is like exercise for the soul and Michael Owens expresses freely and we love to see him do so.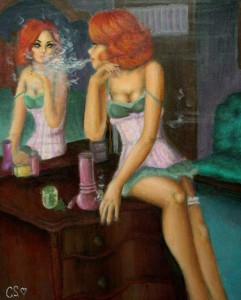 If there's one thing that we're sure this next artist likes to do its smoke Cannabis Sativa. There are so many colors and dimensions to be explored when viewing the art of Cathy Lee.
"She's a Stoner that isn't afraid to let it show in her expression the least bit."
Clean cut and crisp images that you can tell came from a very talented and also very high hand.
Be sure to check out more awesome Stoner Art to get all the 4-11 about out featured MJ artists and be in awe of their amazing work.