States Sue Colorado Over Marijuana Laws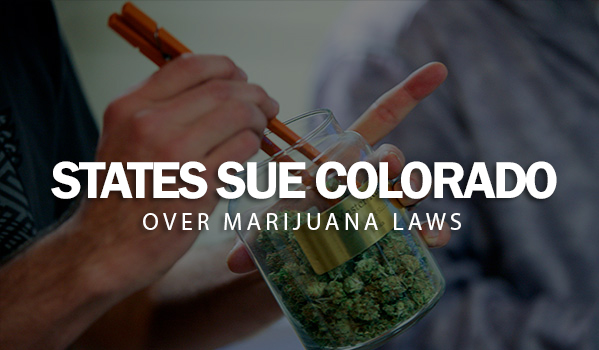 The states of Nebraska and Oklahoma have asked the United States Supreme Court to issue a declaratory judgment finding that Colorado's laws regulating the state-licensed production and sale of marijuana to adults violates the US Constitution.
The suit, filed by Nebraska Attorney General Jon Bruning and Oklahoma Attorney General E. Scott Pruitt, alleges that marijuana is being diverted into their states from Colorado, causing "irreparable injury."
The Attorneys General contend in their suit: "Plaintiff States are suffering a direct and significant detrimental impact – namely the diversion of limited manpower and resources to arrest and process suspected and convicted felons involved in the increased illegal marijuana trafficking or transportation."
They are asking the Supreme Court to strike down Colorado's law on the basis that it is "fundamentally at odds" with the federal Controlled Substances Act. They allege, "The diversion of marijuana from Colorado contradicts the clear Congressional intent, frustrates the federal interest in eliminating commercial transactions in the interstate controlled-substances market and is particularly burdensome for neighboring states like Plaintiff States where law enforcement agencies and the citizens have endured the substantial expansion of Colorado marijuana."
They seek "a declaratory judgment stating that Sections 16(4) and (5) of Article XVIII of the Colorado Constitution are preempted by federal law, and therefore unconstitutional and unenforceable under the Supremacy Clause, Article VI of the US Constitution." The US Attorneys are also asking the State of Colorado "to pay the Plaintiff States' costs and expenses associated with this legal action, including attorneys' fees."
The suit does not ask for the Supreme Court to enjoin any other states' laws regulating the production or dispensing of cannabis for either social or therapeutic purposes, though it is possible that the Court's actions may have implications for those laws going forward. To date, four states have approved measures allowing for the regulated production and sale of cannabis to adults. Twenty-three states have approved measures allowing for the use of the plant for therapeutic purposes.
Colorado Attorney General John Suthers responded to the suit, stating: "[I]t appears the plaintiffs' primary grievance stems from non-enforcement of federal laws regarding marijuana, as opposed to choices made by the voters of Colorado. We believe this suit is without merit and we will vigorously defend against it in the US Supreme Court."
Commenting on the suit, NORML Legal Counsel Keith Stroup said, "This suit is more political theater than a serious legal challenge. These two conservative state attorneys general know they are losing this fight in the court of public opinion, so they are hoping the Supreme Court will intercede."
Stroup further noted that in recent days a majority of Congress approved language limiting the ability of the federal government to interfere in the implementation of state-sponsored marijuana regulatory schemes. He added: "The majority of Americans, including 55 percent of Colorado voters who endorsed this policy in 2012, support regulating cannabis in a manner similar to alcohol. The attorneys general pushing this lawsuit are not only out-of-step with existing public opinion and emerging political opinion, but they are also clearly on the wrong side of history."
Article from: www.hightimes.com
States Sue Colorado Over Marijuana Laws