Sex and Weed
This will probably be a pretty personal subject for some people but there's two very different sides to the topic of pot and sex. There are plenty of people that say that pot makes sex so much better… But science says differently.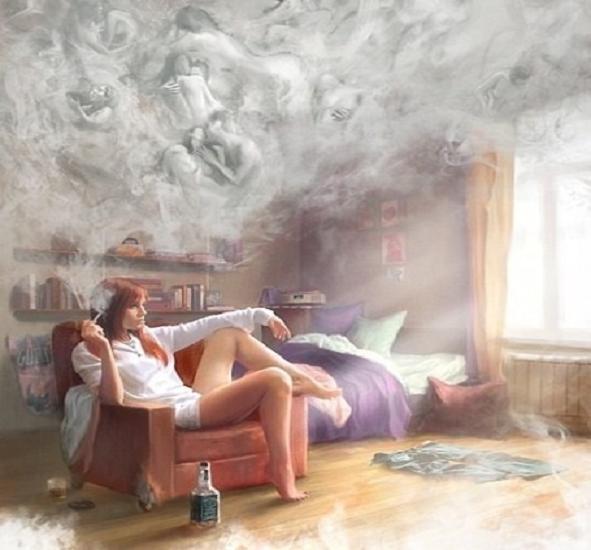 In my personal experience, the only hindrance of smoking and having sex is that everything seems slower, so it's slightly harder to initiate an intimate situation… But once that obstacle has been overcome, high sex is the best sex.
Dr. Juan C. Paredes, a doctor of psychiatry in Miami, says that smoking before sex can lead to weak orgasms or non at all. Not only that, but the doctor states that prolonged and habitual use of the plant can lead to erectile disfunction and an overall disinterest in sex at all. Smoking marijuana also can lead to a low sperm count in men, which can cause problems when starting a family.
On the other hand, I stumbled upon an article written by a man named Steve Davis. He ventured to a marijuana grow op in Northern California and experienced the ultimate surprise when he realized that the female growers were actually using bubblehash and resin from the plants as a female version of Viagra. The girls on the farm explained to Davis that by inserting the bubblehash and resin in to their lady parts, they could experience incredibly increased sexual desires, as well as overwhelming orgasms.
Unfortunately, it's super difficult to find any answer one way or the other. Surveys conducted over the years and most of the results have been so close to half and half, that I've come to the conclusion that sexual desires while stoned are directly related to the a) the strain that was smoked and b) the person's mood before they smoke. If you're sitting on the couch smoking an Indica strain, you're probably going to end up with couch lock and not want to do anything. Sativa may make you get up and sexually charge your partner. Or perhaps it's the other way around for you!
If a person smokes and is in a crappy mood, I highly doubt they'll be wanting to interact with anyone. Marijuana makes it easy for you to vanish within yourself. A bad mood will create a problem because you'll be so introverted that your partner won't be able to convince you to hug them, let alone sleep with them. Bad moods are definitely a sex-stopper. Marijuana may or may not be but is entirely up to the person who smokes it.