Howie Weed
Harold "Howie" Weed is an ILM artist and occasional actor in the Star Wars saga. He played some background characters (Ketwol, Melas) and the Wampa ice creature for the 1997 special editions.
Weed began his career during the early 1980s as a production assistant for TV with Smarkus and Company (1982). However, not satisfied with production roles, he began working as a model maker for Steven Spielberg production Gremlins (1984), where he became a part of the creature crew. On that movie, he would work under special effects artist Chris Walas (The alligator maker for 1984 Romancing the Stone).
Weed began working for Chris Walas Inc. for the next years as a special effect technician, or "creature technician", as he would be sometimes called. Weed would began his successful work as one of the creature technicians of Wolfgang Petersen's science-fiction movie Enemy Mine (1985), and then with David Cronenberg'sThe Fly (1986), this time with Jon Berg and Don Bies.
Weed was not exclusively working for Walas and then tried his luck with another special effects company, Backwood Films, in Steve Miner's horror film House(1986). This movie feature William Katt (The Greatest American Hero), George Wendt (of Norm fame in Cheers) and Richard Moll (Bull from Night Court), but was not a great success.
Weed then started a successful collaboration with Industrial Light & Magic with George Miller's The Witches of Eastwick (1987). He would then combine his work for both ILM and Watt (Backwood was never a successful firm and did not continue in the movie business).
In 1989, two different movies featuring Weed's work debuted. Firstly, Weed had worked as one of the creature sculptors for Chris Walas debut as a director, The Fly II. He was also one of the character performers ILM used for another sequel, Ivan Reitman's Ghostbusters II.
Sequels were easily Weed's fodder for the early 1990s. He began working again in Walas' crew for Irvin Kershner's Robocop 2 (1990) and as animatronics engineer in Amy Heckerling's Look Who's Talking Too (1990). He also worked in animatronics for David Cronenberg and William S. Burroughs's Naked Lunch (1991).
Not unfamiliar with science fiction, Weed worked as model maker for one of the most successful science-fiction sagas ever: Star Trek. Weed worked as model maker in both Star Trek VI: The Undiscovered Country (1991) and Star Trek: Generations (1994), working for Matte World and ILM, respectively.
And then 1997 came. It was one of the most prolific years for Weed. He worked not only as digital artist for Steven Spielberg's The Lost World: Jurassic Park (sequel of the 1993 success) and for Barry Sonnenfeld's sci-fi comedy Men In Black as model maker (more specifically, for the "saucer crash" miniature and the blue screen unit). He would also began working in the special edition of the Star Wars saga!
Weed was the chief creature maker for both The Empire Strikes Back and Return of the Jedi, creating the new monsters that could be seen in the silver screen.
Weed, as Rick Baker did before him, would act as some of his creations. Particularly, on A New Hope, he can be seen in the cantina as Ketwol, the elephant-like creature in the cantina, and also as Melas, a Saurian smoker which looks remarkably like the back of Ketwol's head (In fact, the same puppet was used for both characters).
During Empire Strikes Back, Weed was chosen to be inside his own Wampa Ice Creature disguise, so new scenes can be added to that part of the plot. No longer needing a tall actor for this role, Des Webb was not re-called. Thus, the "gory Wampa" in the special edition is mainly played by Weed.
Weed would continue working for the saga with Star Wars: Episode I The Phantom Menace, working as a construction artist and digital model development artist for ILM, as a part of a greater team. He would not act again in this or any other movie, not being a professional actor.
He would, however, continue his work as a visual effect artist for ILM. With a much more elitist team than in Episode I, he was one of the digital model developers for Steven Spielberg's A.I. (2001), and later again for Spielberg in Minority Report (2002). That same year, he was also the main digital artist for Simon Wells' version of H.G. Wells' The Time Machine, featuring Guy Pearce, Samantha Mumba and Jeremy Irons.
Weed's career as a visual effect artist has not ended at all as this is being written, although his future projects are not specifically known.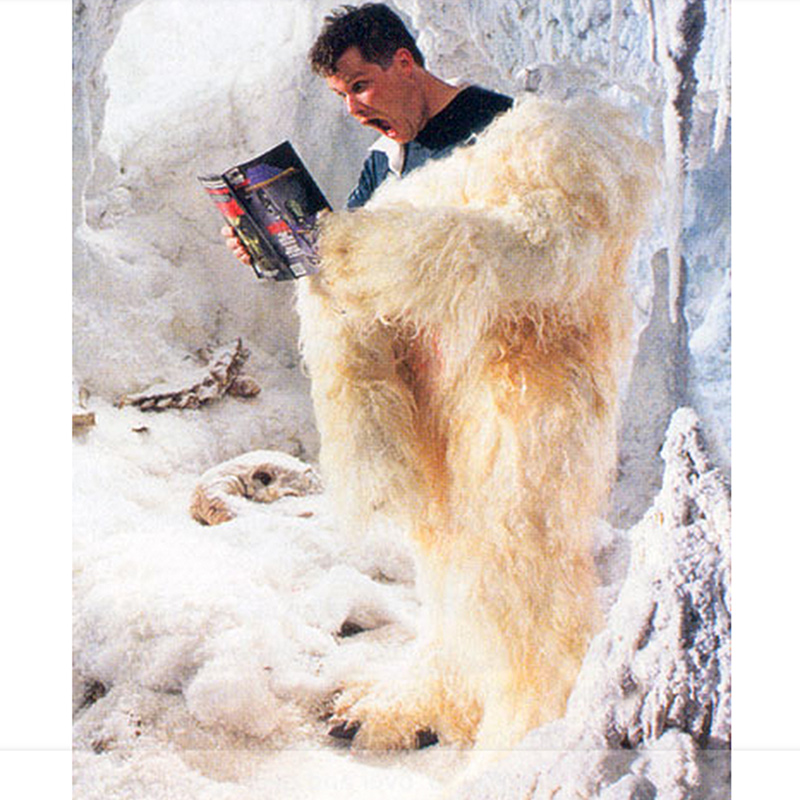 Article from: starwars.wikia.com
Howie Weed