With a booming (and legal) cannabinoid market in its full force, the industry may be getting a little confusing for some consumers. What are all these new-wave cannabinoids? What are the differences between them? How do you know which one is right for you?
A little clarification on some of hemp's most famous compounds is certainly in order. More specifically, let's explore the ins and outs of two of the most popular cannabinoids available today: delta 8 and HHC.
While it's true that they both provide a sense of rest and relaxation, they also have their differences, so let's dive into the specifics of these two stony siblings!
What is Delta 8?
Delta 8, or delta-8-tetrahydrocannabinol (delta 8 THC), is a psychoactive cannabinoid found in the cannabis plant. The compound is pretty similar to delta 9—or the most famous cannabinoid in marijuana and what people refer to when they say the plant produces a "high." That said, delta 8 is slightly different to delta 9 in its chemical structure and potency.
While delta 9 has a double bond on the ninth carbon atom, delta 8 has a double bond on the eighth carbon atom in its molecular structure, making the latter about half as potent as the former. Apart from this, delta 8 has pretty similar benefits to delta 9, except they are much milder. These include:
Relaxation
Euphoria
Pain relief
Increased appetite
Stress relief
Better sleep
Digestive support
Delta 8 is the perfect compound for people who want to feel the relaxing psychoactive benefits of cannabis but don't want to experience a pronounced and unmanageable high. Like delta 9, delta 8 also has some risks, such as red eyes and dry mouth, but the more problematic side effects like anxiety and paranoia are much less frequent and pronounced in delta 8.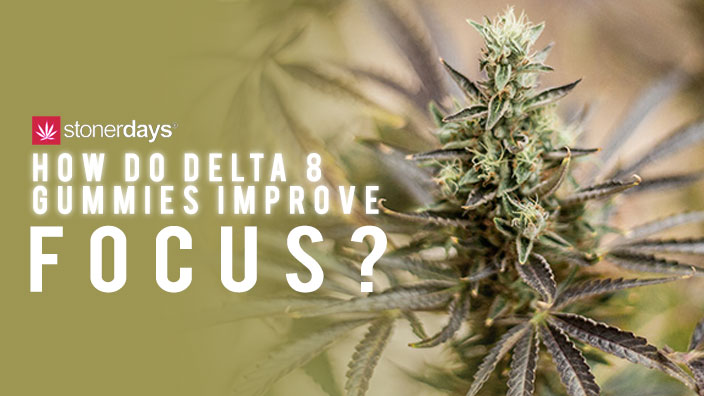 Some may think the compound's lessened potency is a downside of delta 8, but in reality, it makes for a more manageable and pleasant psychoactive experience than its counterpart!
What is HHC?
Hexahydrocannabinol, or HHC, is simply a hydrogenated version of tetrahydrocannabinol, or delta 9 THC. While it may seem like a new compound, HHC was actually originally discovered in 1944 by the American chemist Roger Adams. He added hydrogen molecules to delta 9 THC in a process known as hydrogenation, and successfully converted THC into HHC.
Chemically speaking, THC includes a hydrogen molecule that THC does not. Like delta 8, HHC is less potent than delta 9, but its hydrogenated state gives it more stability and a longer shelf-life than other cannabinoids.
Some of the main benefits associated with HHC include:
Relaxation
Euphoria
Pain relief
Increased appetite
Better sleep
Stress relief
Relief for nausea and vomiting
Because of their molecular similarities, HHC and THC share many of the same benefits. They both help with anxiety, depression, and pain, but their effects are different in potency. HHC is estimated to be around 70-80% as potent as delta 9, making it milder than the compound but still stronger than delta 8.
Delta 8 vs. HHC: The Similarities and Differences
It is obvious that delta 8 and HHC share many similarities—they are, after all, both isomers of delta 9 THC. Apart from their psychoactive effects, they also share another similarity: HHC and delta 8 are both found in trace amounts in the cannabis plants, so they are manufactured in labs in order to achieve amounts large enough to sell.
That said, even the ways they are made differently. With HHC, producers take THC, saturate it with hydrogen atoms, and expose it to a catalyst. On the other hand, delta 8 is made by manipulating hemp-derived CBD through a series of solvents and mixtures.
While delta 8 carts will give you a lowkey buzz and a sense of relaxation, HHC carts have a much stronger psychoactive effect but will offer many of the same benefits as delta 8.
Other differences and similarities between HHC and delta 8 include:
Comparison
HHC
Delta 8 THC
Psychoactive Potency
Moderately strong
Mild
Benefits
Relaxation

Euphoria

Pain relief

Increased appetite

Better sleep

Stress relief

Relief for nausea and vomiting

Relaxation

Euphoria

Pain relief

Increased appetite

Stress relief

Better sleep

Digestive support

Legality
Federally legal as long as it is made from hemp containing 0.3% THC or less
Federally legal as long as it is made from hemp containing 0.3% THC or less
Whether delta 8 or HHC is right for you largely depends on the intensity you want from your high. Because they share many of the same benefits, they will help with the same things, but the potency of these benefits depends on which compound you choose.
Delta 8 Carts vs. HHC Carts: Final Thoughts
Delta 8 and HHC are two very similar compounds with some differences, including their production process and intensity. While both are great for relaxation, appetite, and pain relief, they differ in the potency of their effects.
Whether you try delta 8 carts or HHC carts, you'll be buzzed right into relaxation!