Buying Cannabis – The Smart Way
Buying Cannabis, The Smart Way has us thinking how the rest of the stoner community purchases the sweet mary jane. Here is a quick glance at some of the certain types of buyers out in the stoner community.
There's the individual buyer, the one who has his own connect and picks up Han Solo. There's also the I Got 5 On It buyer, a stoner with no connect but is always ready to throw down on a sesh. One of the more consistent buyers is the Eight or Quarter at a time buyer. This buyer picks up larger perhaps to nickel some off or purely to blaze a large ass sack. Last on our list is the stoner that picks up an ounce or two at a time. When the herb is good you should always think about getting a larger amount. The next batch may not be what it use to be if you know what we mean.
In this article we are going to break down the purchase of an ounce. An ounce is what most stoners should strive to purchase. No matter who you are picking up from, no dealer wants to see the same guy every day for a dime bag. Buying an ounce can be done a couple ways. Purchase the whole wad yourself or get a couple friends together and go in on it.
You can't go wrong buying an ounce of cannabis at a time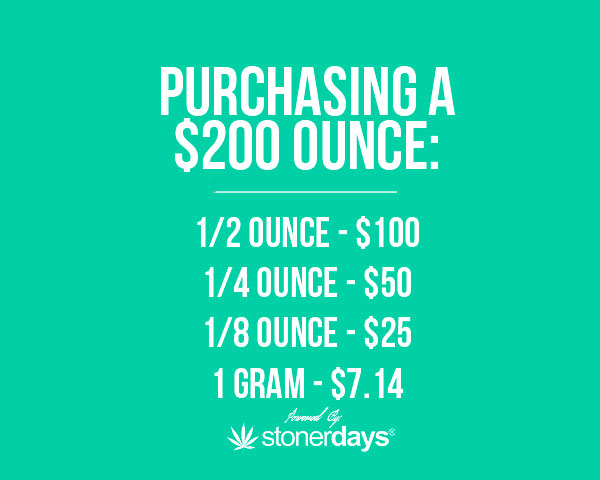 There is no dealer out there who want to see the same person day after day picking up a dime or dub sack. This creates traffic and interruption. As a buyer not one wants to over time purchase 10 dub sacks when in all reality they could have picked up an ounce for the same price. Thats 8 extra grams of the sweet mary jane for the exact amount.
Looking for a good deal on stoner clothing? Use code 420 for 20% off our NEW product line.
CLICK HERE TO SHOP NOW