Boba Fett Bong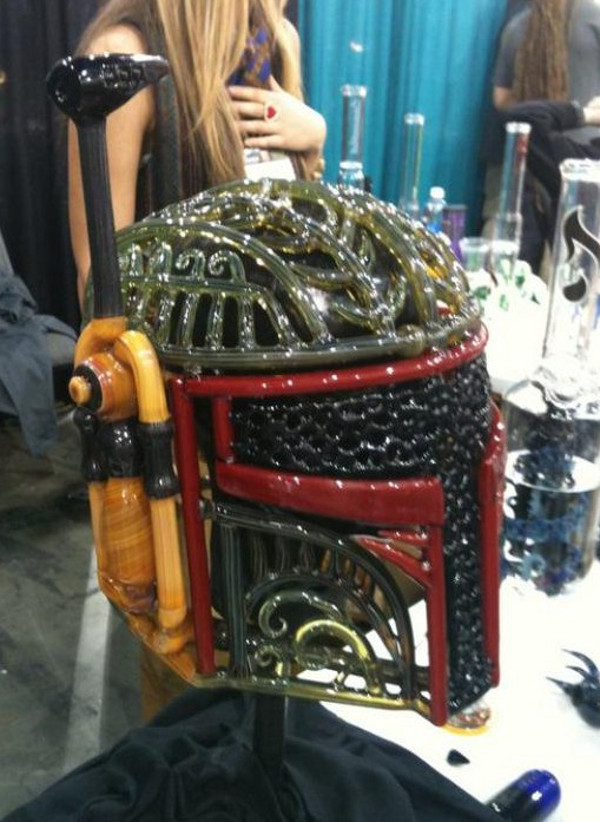 This bong is a perfect representation of Boba Fett at his finest!
This piece was created by the awesome glass blowers over at Sin City Glass Pipes. One of the coolest aspects of it is that you can actually wear it. The mouthpiece is inside of the helmet so you'd have to get a friend to help you with the lighting while you're wearing the helmet. Maybe if Boba Fett knew he could toke up inside that thing he would have spent less time trying to find the Millenium Falcon, and way more time chilling out. It's a wonderfully designed piece of work that was specifically engineered to turn you into the highest clone around.
---
Face Bong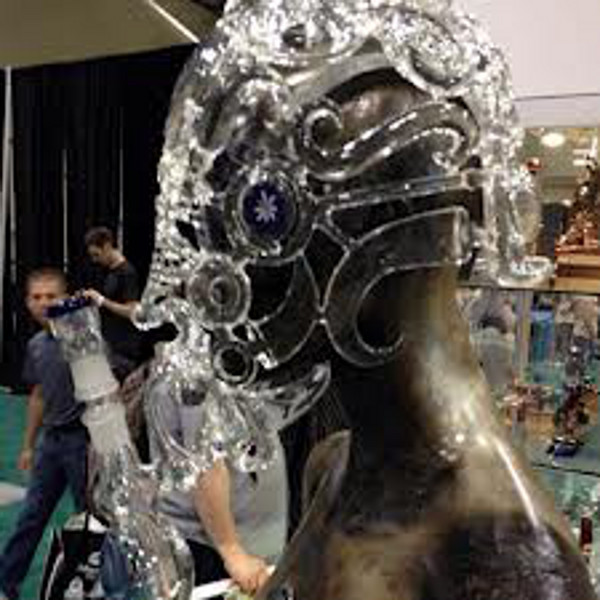 One of the highights of getting overly faded is feeling your face tingle and get tight when the THC really kicks in, and with this bong your face won't know what hit it.
It's nothing short of a bong beauty and looks like you'd only want to smoke the highest quality dank out of it. The mouthpiece curves and turns right into your mouth, making for very easy inhalation. This type of craftsmanship doesn't come without a price, and it's rumored that the face bong costs around $20,000. A high end cost only seems fair when paired with this high end smoking experience.
---
  Heart & Lungs Bong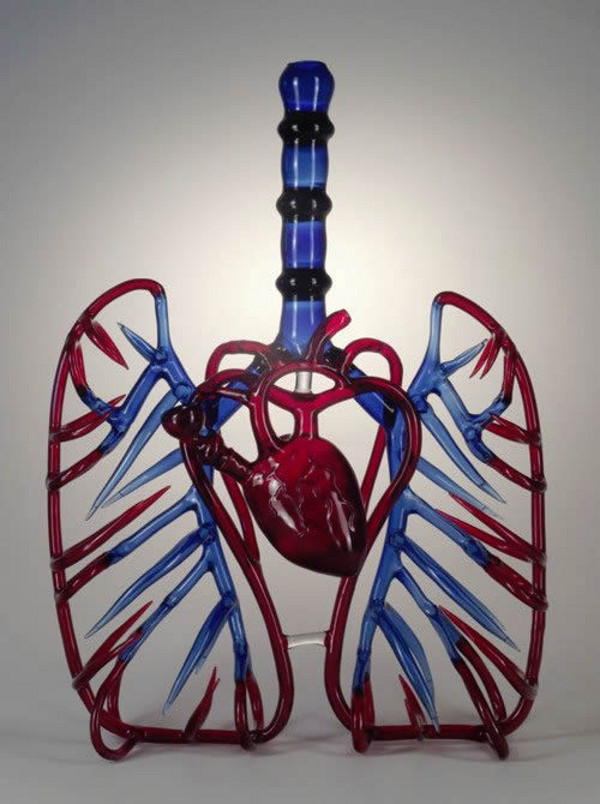 A design that's nothing short of creative genius  and originality
This heart and lung style bong was made by the Chesterfield Glass Company who make other unique styles of bongs with prices ranging from about $2,000 $10,000 a bong. The trippy thing about this is being able to watch the smoke travel through the tubes in reverse order from the heart, to the lungs, and then to your mouth. An overly cool way to light up that comes straight from the heart.
---
Alien Bong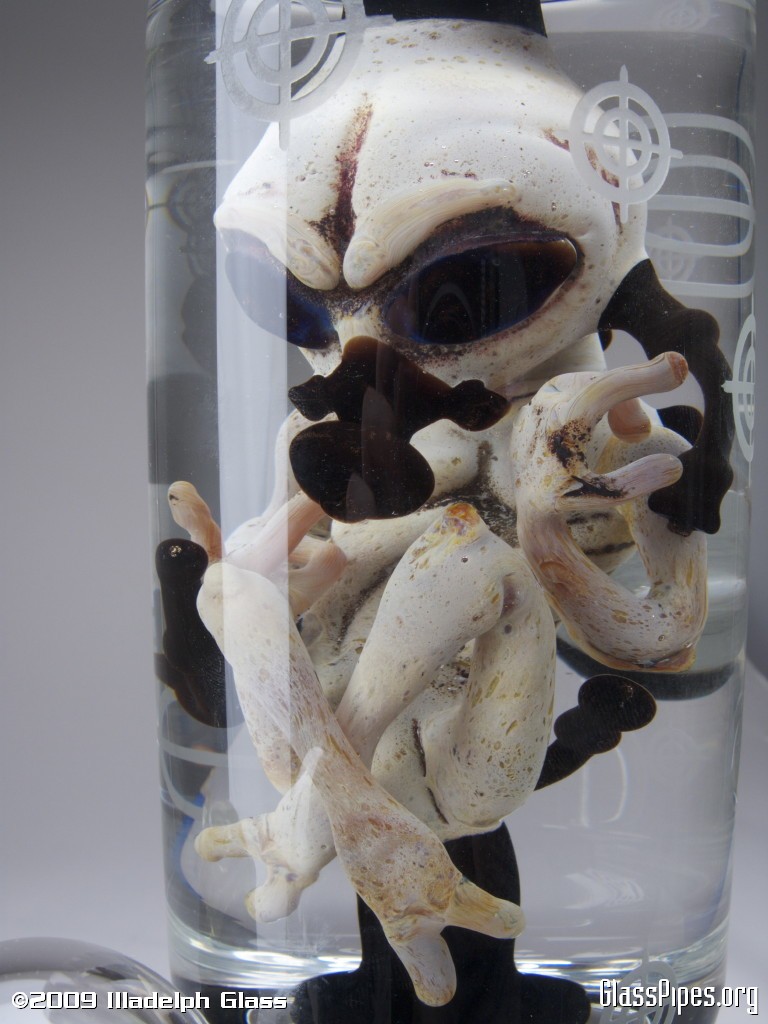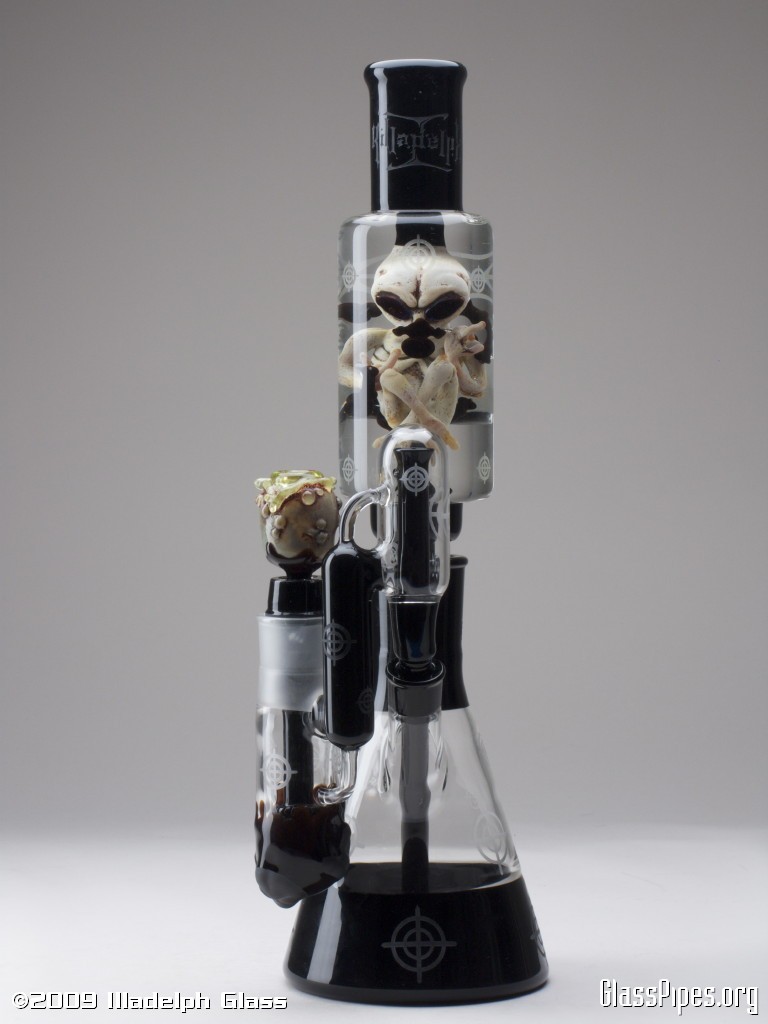 Ok, so the aliens have landed and figured out that our bongs would make the perfect homes to live out their existence on earth, sounds about right!
This bong looks like a one of a kind piece that was made right at the Area 51 headquarters and incorporates some of the most detailed art you've ever seen used on a bong. The price is somewhere in the thousands and is a product of Illadelph Bongs. They're known for super detailed bongs with creative cartoon like themes like extraterrestrials and other planetary and artistic stuff. This thing is sure to make for some good times after you're completely stoned and realize you've got Paul hanging out in your bong.
---
 Super Mario Bros. Bong
Faded fun is what's in store when taking hits from this fantasy filled bong.
One look and it's sure to put a smile on your blown face as the memories of playing Mario on your Sega Genesis roll into your head. The bright green and vivid colors help it to maintain its visual playfulness and seem to scream, "smoke me while playing Mario!" It's the perfect addition for a stoned-nerd video game party.
---
 Transfromers Bong

Bumblebee finally came to his senses and realized he should have been tranasfroming in to a bong all these years.
The robot bong is completely amazing and deserves a spot on the ultimate stoner shelf. It's made of glass and painted a very shiny and vibrant lemon yellow that's so engaging to look at and probably much more fancy in person. His action packed pose sends the message that he's ready to be fired up and transform you into a happy stoner.
---
Roor Excalibur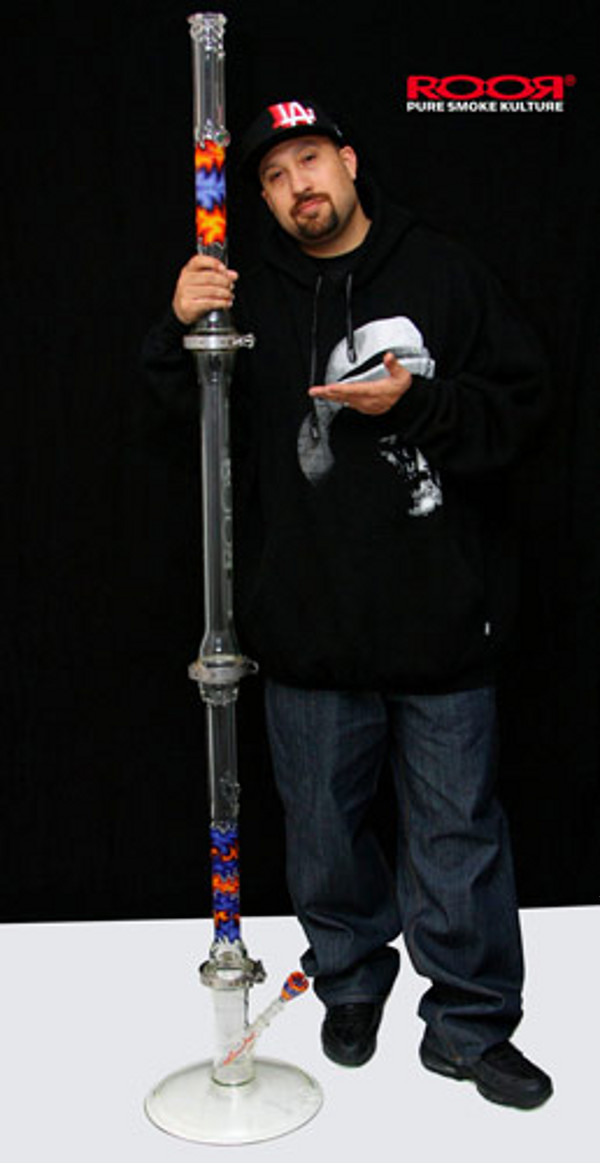 The Roor Excalibur is a rare beauty and there were only a few of them ever to be made.
The Excalibur stands over 6 feet tall and is blown from 9mm thick glass which makes it a very hard sight to be ignored. This bong in all its glory managed to take home 1st place at the High Times Cannabis Cup in Amsterdam in 2009 for their glass cup category. B-Real of Cypress Hill is proud spokesperson for his band's specially commissioned bong. It's heavy duty smoker hardware and comes with it's own custom carrying case that has compartments for every piece. The cost for the Excalibur if you can find one is $15,000, but if B-Real stands behind this bong then you know it's not all show and definitely a bong worthy of making you insane in the membrane.
---
Tits & Dick Bong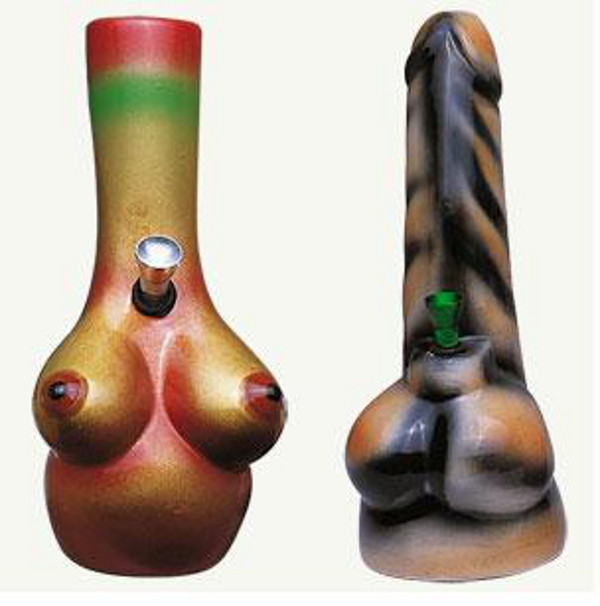 Oh yeah, these bongs are obviously a sight to see and right away look instantly perfect as attention getting party bongs that your friends are sure to be eager to play with.
The design is pretty simple and with the bowl located in the front all you do is pack, light, and inhale as always. They both look inviting to try and would make for some killer pictures later. It's not everyday you get to take drags from vibrantly colored tits and zebra striped dicks, and if you do then you're pretty lucky!
---
Crazy Bong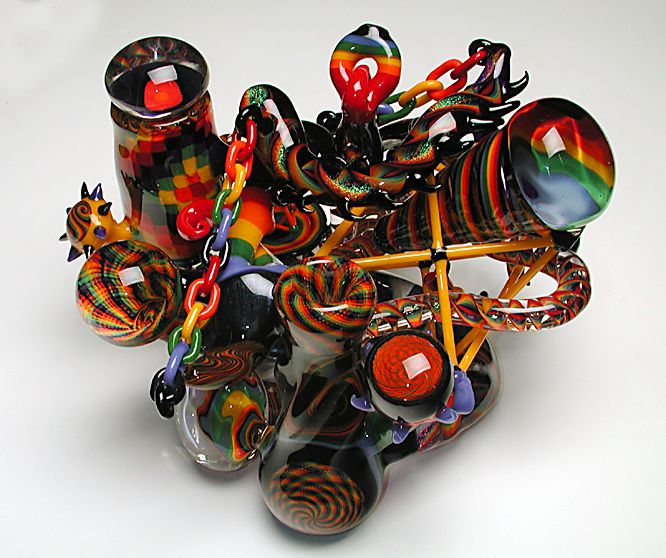 Filled with whimsical twists and turns that seem to lead nowhere in particular all mixed in with some wicked patterns, this thing is a smokable optical illusion.
The bowl sits right in front of the creation and the mouthpiece is… well it's got to be around there somewhere. There aren't many bongs that you see that can be classified as confusing but this one certainly earns a place in that category.
---
 Train Bong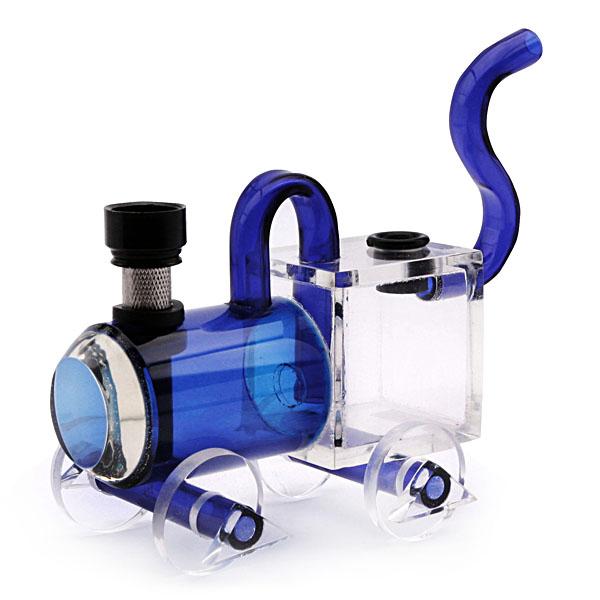 This train is making its first stop in Potsville where it'll make sure everyone gets a hit.
This bong has a sort of simple cool simplicity that could hold its own in a sea of bongs. The sleekness of it makes it perfect as coffee table decoration whie the curvyness of it makes it easy for you to want to pick it up right away and get high.
---
10 Coolest Bongs in the world Honorable Mentions:
Rokit V5 BongT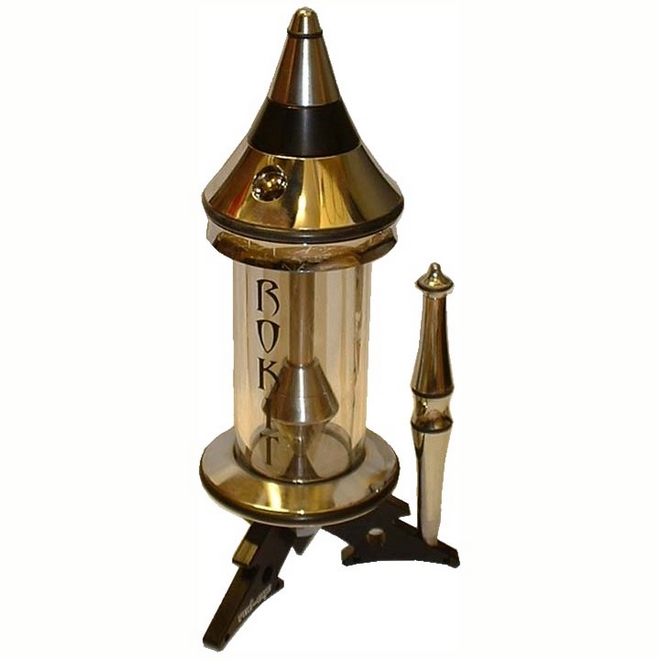 he Rokit V5 is a made for travel bong with an eye catching functional design.
It could easily become the active stoners first choice for activities like music festivals and camping trips because of it's easy transport. They're available on today's market for about $200.00 and are said to deliver a quality smoke that isn't all fireworks but gets you pretty lifted too. It's filtration system was made to last and to completely cool and clean your smoke. The smoke first travels through a 14 port dual chamber rose that breaks the smoke up into thousands of little bubbles, pretty efficient machinery.
---
Crystal Cane Bong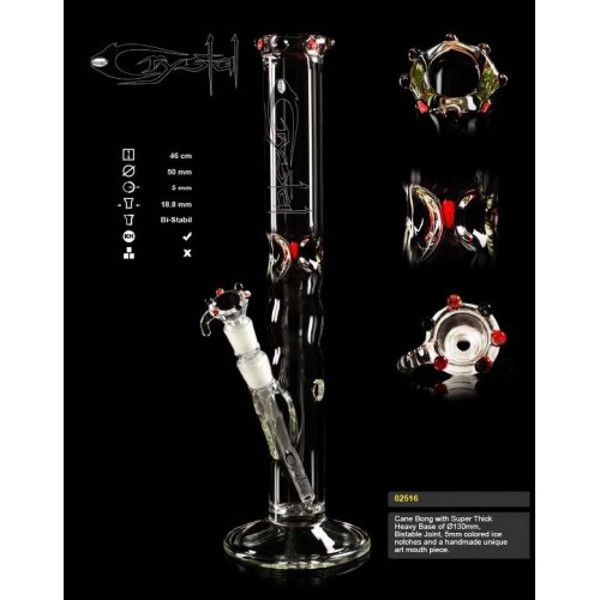 The Crystal Cane represents a classic bong structure with plenty of added style and flare.
The customized glass pieces are very beautiful and look good enough to eat. The Crystal Cane collection can be bought online and even customized to to whatever colors  you'd like to give it that added personal touch. It's a sure fire quality piece and the crystal accents help to give it an all around polished look that's really dope.