Many industries across the globe function under SOME regional differences in trade, culture, community, and values (among other factors). The medical marijuana industry in the U.S., however, is among the most unique multi-billion dollar industries there is. Varying legal limits, access points, and barriers to entry cause massive regional differences. Even the conditions and diseases in which a patient may be recommended cannabis for treatment differ at the state level greatly.
Not to say, however, there is no similarities among US medical marijuana programs. Indeed, there are several. After doing research on accepted medical marijuana conditions by state, I thought it'd fun to explore and rank the top 10 medical marijuana conditions across the US.
And my Stoner friends, here is that list:
10) Crohn's Disease
Crohn's Disease is a unique form of severe inflammation of the digestive tract causing chronic pain and affecting life functions for many individuals. Many find cannabis as effective in the treatment of Crohn's, largely due to its various anti-inflammatory properties. This includes numerous organic compounds found in cannabis, including THC, CBD, and various terpenes.
9) Muscle Spasms
Muscle Spasms are the second most common of medical marijuana conditions across the US. Muscle spasms occur when the regulation of normal cellular function gives way to imbalance, eroding in the process the ability for normal, healthy function to occur between nerve cells and muscle tissues. Diseases including amyotrophic lateral sclerosis, multiple sclerosis, or various types of spinal cord injury may be associated with muscle spasm.
Cannabis may help to impact muscle spasms by helping modulate or slow the breakdown of healthy function between nerves and muscle tissues, acting as a neuroprotective agent.
8) Cachexia & Wasting Syndrome
Cachexia is often used interchangeably wasting syndrome. Both terms refer to the process of losing weight, experiencing muscle atrophy, being overcome with severe fatigue or weakness, and a significant reduction in appetite when someone is not actively seeking these outcomes.
This is known to happen in those with HIV/ AIDS, anorexia, and cancer, among other disease or conditions.
Cannabis may help alleviate cachexia by helping restore the urge to eat and reducing nausea associated with doing so.
7) HIV/ AIDS
The human immunodeficiency virus (HIV) and acquired immunodeficiency syndrome (AIDS) are next up on our list of top 10 medical marijuana conditions in the US. They have been accepted as conditions in 18 different states.
Commonly, it is thought cannabis may help in the treatment of these conditions by reducing nausea, increasing hunger, and decreasing pain associated with the condition.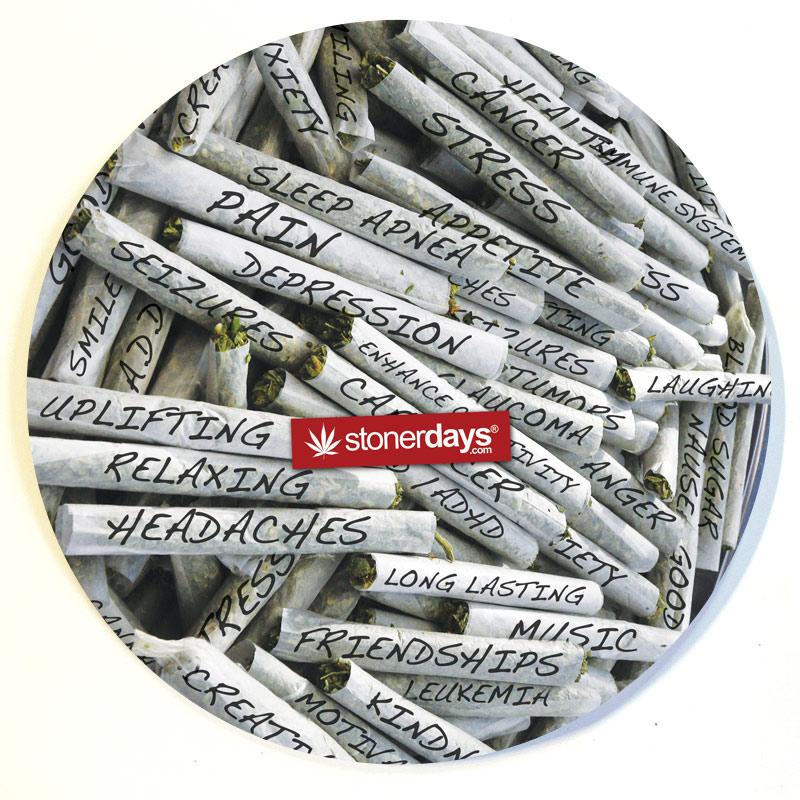 6) Amyotrophic Lateral Sclerosis
Amyotrophic Lateral Sclerosis (ALS) is a degenerative neuromuscular disorder. Those afflicted by this condition see the breakdown of neurons within the muscular system, leading to the poor and improper functioning of many bodily processes over time.
(RIP Stephen Hawking, the longest-lived individual with ALS in history)
Numerous studies on cannabis have shown it may help with inflammation and muscle spasms, symptoms related to the advance of ALS, in addition to various neuroprotective properties of cannabinoids.
5) Post-Traumatic Stress Disorder
Post-traumatic stress disorder is among the most common medical marijuana conditions across the US. PTSD is a disorder resulting from patterns of behavior related to severe, shocking, scary, and dangerous events in life. Often, it becomes hard to reconcile the experience(s) into day-to-day activity and results in diminished life satisfaction.
Cannabis is thought to interrupt some of the excitatory messages from neurons leading to the thought patterns or behaviors associated with PTSD.
4) Seizure Disorders
At this point, it should come as no surprise seizures are among the top ten most common medical marijuana conditions in the US. Seizures can be caused by a number of reasons.
Whether the seizures are part of a regular disease causing them or an irregularity resulting from otherwise healthy cell functioning, cannabis is thought to be effective in treatment. This is explained by the neuroprotective mechanisms of CBD and THC, among other cannabinoids – the very same which help with muscle spasms.
Strains such as Charlotte's Web or Cannatonic have gained popularity by aiding in the treatment of seizure disorders.
3) Glaucoma
A condition of the eye, glaucoma refers to process over time of the optic nerve reducing side vision. This may lead to blindness. One of the leading causes of glaucoma is raised pressure within the eye – termed intraocular pressure (IOP) by medical professionals.
The use of cannabis is thought to help this condition by reducing the IOP of patients, slowing the condition and helping manage the symptoms.
2) Cancer
Cancer is an accepted condition for nearly all medical marijuana programs across the US.
Medical research on cannabis use by cancer patients shows there are potential benefits, including reduced nausea and pain. Additionally, cannabis is thought to aid in maintaining normal cell functioning, creating a potential barrier when cancerous cells would otherwise divide uncontrollably.
1.) Pain
Pain is an accepted condition in every single US state with a medical marijuana program. This includes chronic pain, severe pain, neuropathic pain, and – well – just about every type of pain a person can experience.
In 2017, the National Academy of Sciences released "The Health Effects of Cannabis and Cannabinoids: The Current State of Evidence and Recommendations for Research", a report spanning 400 pages. Within, the report reviewed 10,000 independent studies on marijuana, ultimately determining which medical conditions found in American medical marijuana programs had the most solid research behind it.
Cannabis use in pain management was shown to be the most well documented of all the therapeutic benefits cannabis may have.
By Joey Wells
(Joey Wells is a freelance writer, Board-Certified Pharmacy Technician (CPhT), cheesemonger, and digital marketer based out of Denver, Colorado. He has been a contributing writer in the cannabis industry for nearly two years. In his time in the cannabis space, he has written on economics, taxes, regulations, law, and medical or scientific research.)